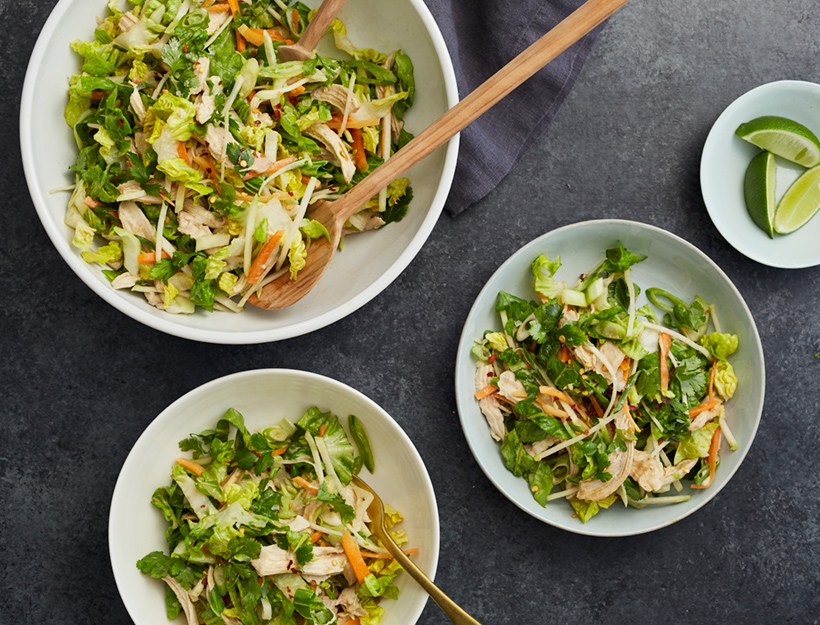 Crunchy Veggie Salad with Poached Chicken & Garlicky Sunbutter Dressing
This salad is crunchy, creamy, nutty, and filling. If you make the chicken bone broth, use the poached chicken breast from that recipe here.
for the poached chicken:
1 bone-in, skin on chicken breast
3 whole cloves of garlic
¼ teaspoon chili flakes
1 shallot, cut in half
1 bunch of cilantro stems
1 star anise pod
1 inch piece of fresh ginger, sliced
1 teaspoon salt
for the dressing:
½ cup sunbutter
2 tablespoons toasted sesame oil
2 tablespoons gluten-free tamari
1 tablespoon coconut sugar
2 cloves garlic, finely minced or grated
1 teaspoon finely minced or grated ginger
1 tablespoon rice vinegar
1 tablespoon lime juice
for the salad:
1 heart of romaine lettuce
1 head baby bok choy
¼ cup snap peas
¼ cup shredded carrot
1 small kohlrabi or daikon
cilantro to garnish
1 bunch scallions, thinly sliced
chili flakes, optional
1. Start by poaching the chicken. Place the aromatics, chicken, and salt in a medium saucepan and add just enough water to cover everything. Bring to a boil over medium heat, reduce to a simmer, and cook for about 15 minutes, or until the chicken is firm to the touch and cooked through. Remove the cooked chicken from the pot and set aside to cool.
2. While the chicken cools, whip together the dressing. Combine all the ingredients in a small bowl and taste for seasoning. It will be thick, so you'll want to thin it with some water and a little more lime juice to taste.
3. Use your fingers or two forks to shred the chicken into small pieces.
4. Chop all the veggies into relatively uniform pieces and toss with the dressing and shredded chicken. Finish the salad with sliced scallions, cilantro, a sprinkle of salt, and a squeeze of fresh lime and chili flakes, if desired.
Originally featured in The Annual goop Detox 2017