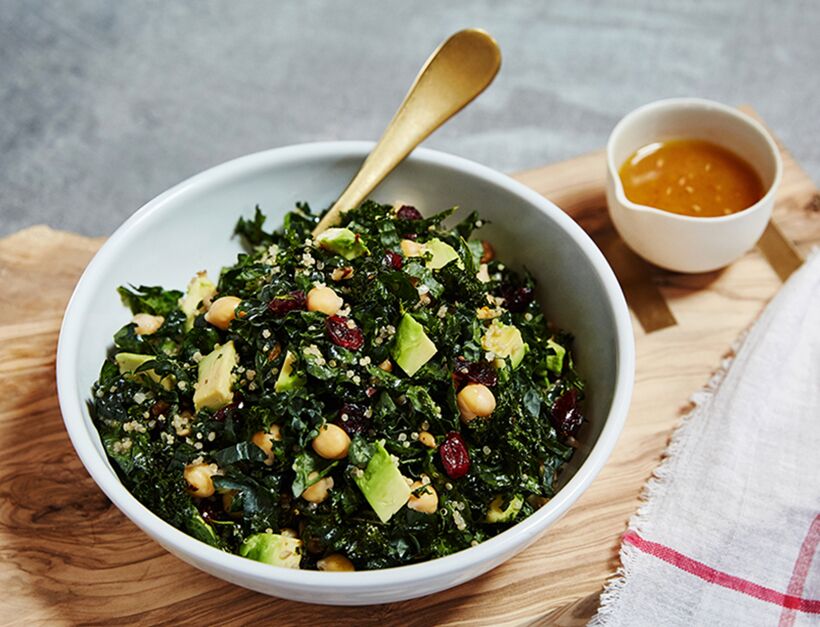 Crunchy Kale Salad with Blood Orange Vinaigrette
The combo of raw kale and crunchy kale chips in this salad is a revelation. Plus it's full of iron, good fats, and antioxidants, which means it's great for your body both inside and out—an all-around winner.
1. To make the kale chips, preheat the oven to 300°F.
2. Wash and dry the kale very well, then tear into large pieces.
3. Divide the kale pieces between 2 large baking sheets and toss each batch with 2 teaspoons olive oil, a pinch of harissa powder, and a generous pinch of kosher salt.
4. Use your fingers to massage the oil and seasoning into the kale leaves, then spread out in an even layer, making sure that no pieces overlap.
5. Place the baking sheets in the lower and upper thirds of the oven, bake for 10 minutes, then switch the baking sheets and bake for a further 7 minutes.
6. Let the chips cool on the baking sheet before eating.
7. While the kale chips cook, make the salad dressing: Whisk together first 5 ingredients and season to taste with salt.
8. To assemble the salad, place all salad ingredients in a medium bowl and toss with half the dressing. Season to taste with salt and pepper, and toss in a large handful of the kale chips.
9. Eat immediately (so the chips stay crunchy) with remaining dressing on the side.
Originally featured in GP's Favorite Snack Foods