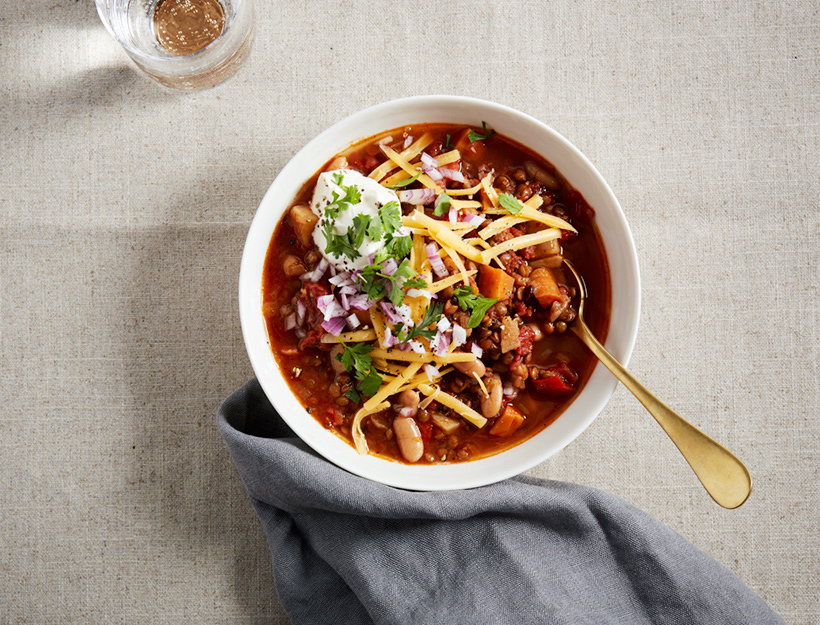 This chili, inspired by the one in GP's first cookbook, gets a little added sweetness and lovely texture from sweet potato. Popular with kids and adults alike, this is a perfect party food.
1. Heat the olive oil in a large sauté pan or Dutch oven over medium-high heat (or in the crockpot over high heat if it is a multicooker). Add the onion and cook for 5 to 7 minutes.
2. Add the carrot, bell pepper, garlic, and a large pinch of salt and sauté another 5 minutes.
3. Transfer the vegetables to the crockpot (or switch to slow-cook function), and add the spices, diced sweet potatoes, crushed tomatoes, beans, and lentils.
4. Fill the tomato can with water and add to the crockpot along with 2 more cups of water.
5. Set the crockpot to the slow-cook high setting and cook for 6 hours.
6. Season to taste with salt and pepper and serve with minced red onion, sour cream, Cheddar cheese, and fresh cilantro.
Originally featured in 4 Easy Crockpot Recipes