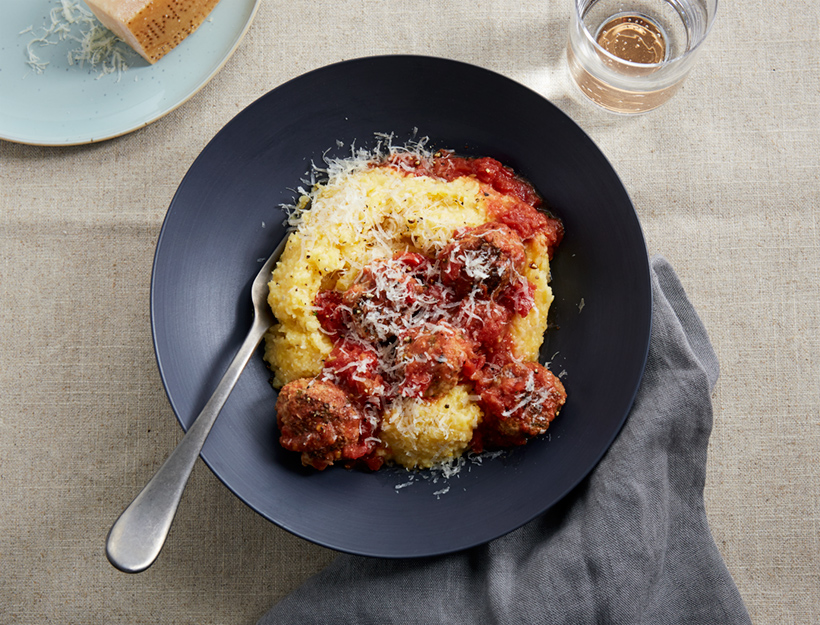 Crock-Pot Turkey Meatballs
Is there anything better than spaghetti and meatballs for dinner on a cold autumn evening? These simmer all day, so the only thing you have to do is cook the pasta (or polenta) when you get home. If you're making these during the week, follow the directions through step 6 the night before, then finish in the morning.
1 medium yellow onion
4 cloves garlic
2 tablespoons olive oil, plus extra for searing
salt to taste
¼ teaspoon chili flakes
½ teaspoon fennel seeds
1 (28-ounce) can whole tomatoes
2 tablespoons basil leaves, very finely chopped
1 tablespoon parsley leaves, very finely chopped
1 egg
⅓ cup lightly packed, finely grated Parmesan cheese
3 tablespoons bread crumbs
1 pound ground dark turkey meat
1 teaspoon kosher salt
1. Grate the onion on a box grater (leaving the extra liquid behind) and use a microplane to grate the garlic (or you can mince it by hand).
2. Heat the olive oil in a medium sauté pan, add the onion and garlic, and cook over medium heat for 5 to 7 minutes, or until the onion is just starting to brown.
3. Add a large pinch of salt, the chili flakes, and the fennel seeds and cook for another 3 minutes. Let cool for 5 minutes.
4. Transfer half of this mixture to a large bowl, add the canned tomatoes, and use your hands to crush them a bit.
5. Add the rest of the onion mixture to another bowl, along with all the remaining ingredients. Use your hands or a wooden spoon to mix everything together.
6. Shape the mixture into 24 golf-ball-size meatballs.
7. Heat the sauté pan over medium-high heat, add a splash of olive oil, and begin searing the meatballs in batches, just to brown them a bit.
8. As you brown the meatballs, transfer them to a Crock-Pot and then continue with the next batch. Once all the meatballs are browned and in the Crock-Pot, pour over the tomato sauce and cook on low for 6 hours.
9. Serve over polenta, with homemade focaccia, or with spaghetti.
Originally featured in 4 Easy Crock-Pot Recipes