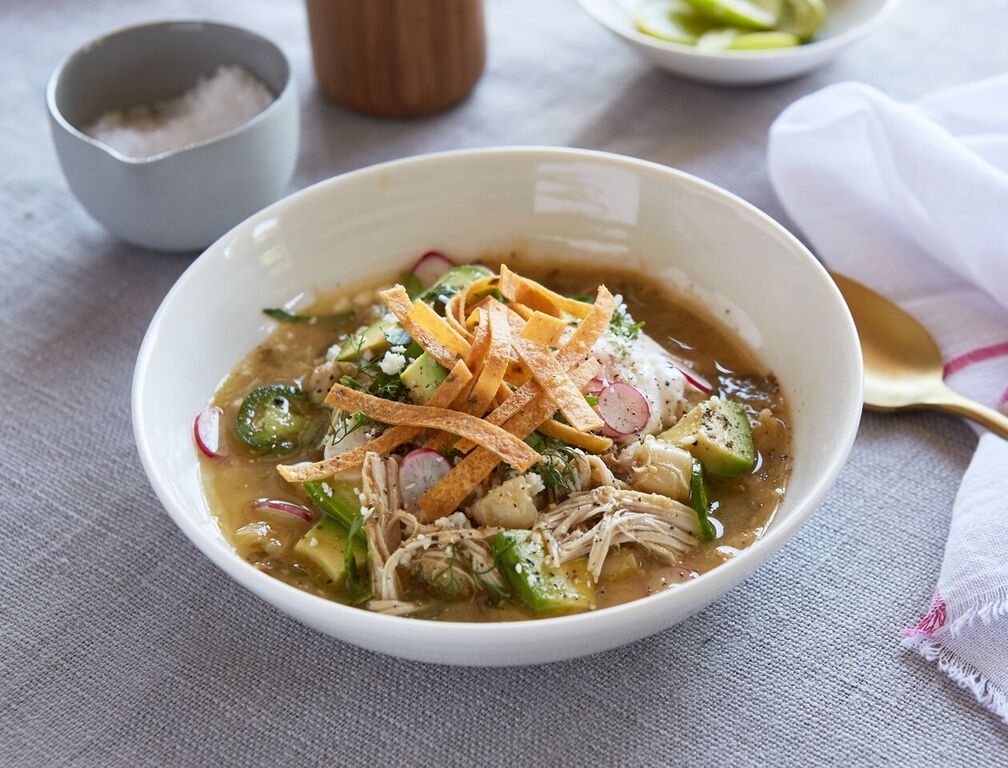 Crockpot Green Chicken Pozole
This Mexican stew is simultaneously light and comforting, which makes it great for lunch or dinner, any time of year. The spice is pretty subtle, but if you're making it for little kids, you may want to cut back to one jalapeño.
1. Preheat the oven to 450°F.
2. Place the tomatillos, white onion, and jalapeños on a rimmed baking sheet and toss with olive oil and a large pinch of salt. Roast in the oven for 25 minutes, then let cool at room temperature for 5 minutes.
3. Meanwhile, place the chicken thighs, chopped cilantro, ground cumin, Mexican oregano, hominy, bay leaf, and chicken stock in the crockpot.
4. Remove the stems from the jalapeños and transfer the roasted vegetables to a food processor. Blend until mostly smooth and add the mixture to the crockpot with 1 teaspoon kosher salt.
5. Cook on the low setting for 6 hours. When ready to serve, remove the chicken, shred it, and return it to the crockpot. Taste for seasoning, add more salt and pepper to taste, and serve with garnishes of choice.
Originally featured in Two Supremely Easy Crockpot Recipes