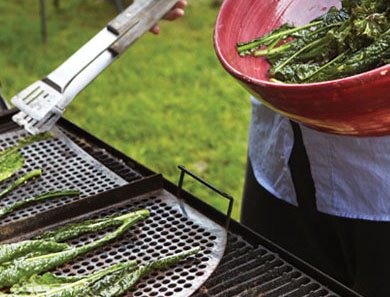 Crispy Tuscan Kale on the Grill
Grilled kale, in Seamus Mullen's words, is "pretty damn tasty, quite easy to make, and a great beginning to a barbecue."
1. Preheat the grill to high or build a small fire in a charcoal grill. In a large mixing bowl, combine the olive oil, vinegar, garlic, and lemon zest and juice and mix well. Add the kale leaves. Season with salt and pepper and gently toss until kale is evenly coated.
2. When the grill is hot, carefully lay the kale leaves, as many as will fit, side-by-side in a single layer on the grill. In about 2 minutes the leaves will crisp. Turn them and grill on the other side for another 1–2 minutes. Repeat with the rest of the leaves.
3. Pile the grilled kale leaves in a big stack on a large platter or cutting board and serve them up.
From Seamus Mullen's Hero Food.
Originally featured in Food Hero, Seamus Mullen