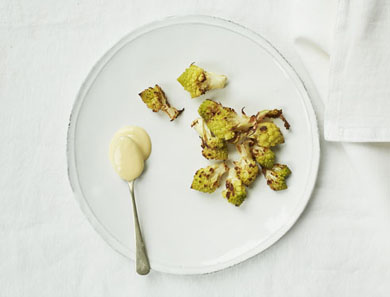 Crispy Romanesco with Lemon Aioli
"Cruciferous vegetables are packed with health fortifying vitamins and minerals. They're low in calories, but in many cases these powerful veggies can provide at least 25% of your daily dose of fiber and protein in just one serving." -Dr. Lipman
for romanesco:
1. Heat oven to 425 degrees F.
2. Tear romanesco into bite size florets and drizzle with olive oil, salt and pepper. Roast uncovered for about 10 minutes or until lightly charred, mixing once or twice to even out the browning.
for aioli:
1. Mash garlic and salt in a mortar and pestle to form a smooth paste.
2. Place garlic paste in large bowl along with egg yolks, mustard, lemon juice and a pinch of salt and pepper. Whisk to blend.
3. Drizzle half the grapeseed oil into the mixture very slowly (should be just drips at first until mixture begins to emulsify) while whisking. Repeat with rest of the oil in small batches, allowing a steadier but still very thin stream as the mixture gets thicker. Follow with the extra virgin olive oil, using the same method, whisking until you have a creamy, thick, aioli. If your mixture is not emulsifying you are going too fast! Put down the oil, keep whisking and then continue to add the oil very slowly.
4. Season to taste with salt and pepper. Refrigerate until ready to serve.
Originally featured in Superfoods