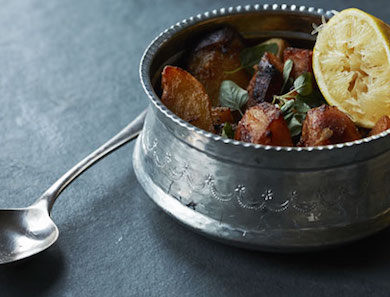 Crispy Lemon Potatoes
A little bit like oven frying without the excessive oil, these crispy, lemony wedges pair perfectly with our salt-crusted fish.
4 medium-sized, starchy potatoes, peeled and cut into rustic wedges
1/4 cup olive oil
1/4 cup chicken stock
2 cloves garlic, minced
juice of 3 lemons
1/2 teaspoon dried oregano
sea salt
freshly ground pepper
fresh oregano to garnish (optional)
1. Preheat oven on to 425°F.
2. Place all ingredients (except for garnish) in baking pan and toss to coat. Place in oven.
3. Roast for 20 minutes and remove from oven quickly to baste the potatoes with the juices. Place back in oven and cook for another 20 minutes, removing again to baste once more. Roast for another 20 minutes or so, until brown and crispy.
Originally featured in A Holiday Feast