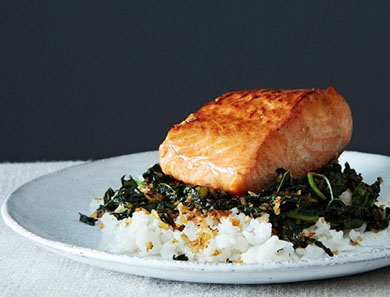 Crispy Coconut Kale with Roasted Salmon
We're into the coconut-sesame-Sriracha combination on the salmon and kale. We also love anything that can be cooked in one pan. We omitted the sweet potatoes, as we found the rice was an ideal amount of starch.
1 cup jasmine rice, uncooked
1 cup coconut milk
1 cup water
½ teaspoon sea salt
⅓ cup coconut oil, melted
1 teaspoon toasted sesame oil
2 tablespoons coconut aminos (or tamari)
1 tablespoon Sriracha
1 bunch lacinato kale, deveined and sliced into strips
1 cup unsweetened coconut flakes
1 to 1½ pounds salmon, sliced into 4 fillets
for sweet potatoes (optional):
3 sweet potatoes, cubed
1 teaspoon paprika
1 tablespoon coconut oil, melted
1. Rinse rice in cold water and drain. Place in a saucepan with coconut milk, water, and salt. Bring to a boil and stir. Reduce to the lowest possible heat, cover, and cook for 15 minutes. Remove from heat and let stand for 10 minutes, or until ready to serve (it will stay warm for up to an hour).
2. While the rice is cooking, heat oven to 400°F. In a lidded jar, add melted coconut oil, sesame oil, coconut aminos, and Sriracha. Place the lid on the jar and shake vigorously until emulsified.
3. If you're making the sweet potatoes: Place sweet potatoes on a baking sheet. Drizzle with melted coconut oil and sprinkle with paprika. Toss to coat. Bake 30 minutes or until tender.
4. Place kale and coconut flakes on baking sheet. Drizzle with about ⅔ of the dressing. Toss until well coated. Drizzle salmon with 1 to 2 tablespoons of remaining dressing. Bake the salmon and coconut kale mixture during the last 15 minutes of the sweet potatoes' baking time (if you're making them) or until cooked through, being careful not to let the kale burn. Remove from oven. Serve over fluffed rice with an extra drizzle of dressing.
Contributed by Ashley Couse for our Dark Leafy Greens contest with Food52.
Originally featured in Dark Leafy Green Recipes