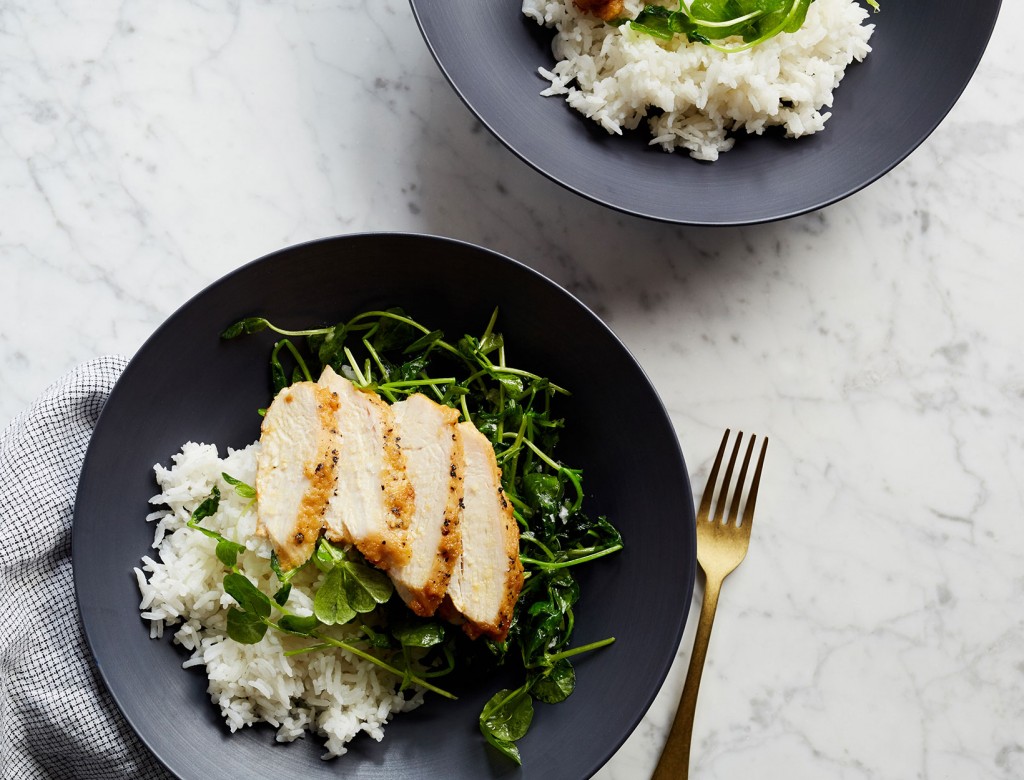 Crispy Chicken with Garlicky Pea Shoots
Easy and family-friendly—what more could you ask for? For a little extra flavor, we like to drizzle over a little more peanut sauce right before serving. If you can't find pea shoots, try using baby bok choy or baby spinach instead.
1. Heat a large oven-proof sauté pan over medium high heat and add enough olive oil to generously coat the pan. Season chicken breasts with salt and place in the pan and sear for 4-5 minutes, until golden brown. Turn over and continue to cook on the other side for 3-4 minutes. After flipping the chicken, turn on broiler to pre-heat.
2. Remove any excess oil from pan and spoon ¼ cup of the sauce over each breast and spread evenly. Place under broiler for 2 to 4 minutes, checking frequently until the sauce is bubbling.
3. Remove from pan and let cool slightly. Meanwhile, quickly clean the pan, return to heat and add enough olive oil to coat the pan. When the oil is hot, add the pea shoots and cook until just wilting. Add the minced garlic, toss and season with salt.
4. Place rice in 4 bowls and divide the pea shoots among the bowls. Slice the chicken breasts and add half a sliced breast per bowl. Or serve the chicken sliced over a bed of pea shoots.