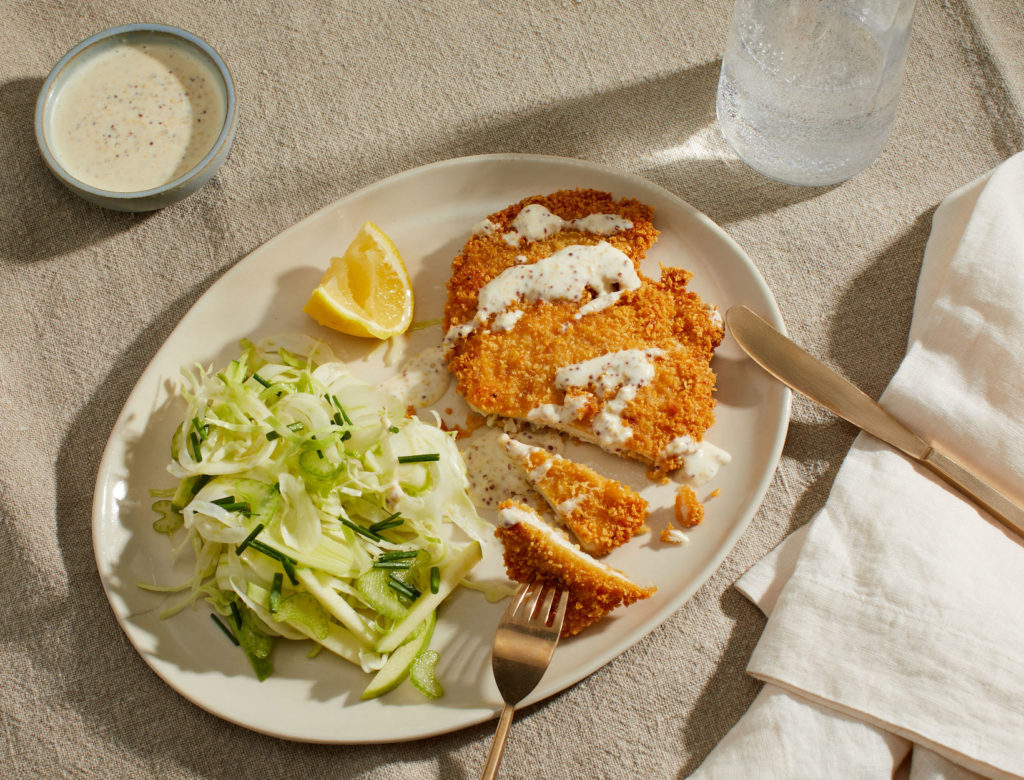 Crispy Chicken Cutlets with Fennel, Apple, and Cabbage Slaw
Thanks to some grain-free bread crumb innovation, chicken cutlets can now be enjoyed during our annual reset. We like to pound them thin so they're extra tender and cook quickly, requiring less time in the oil. A bright and crunchy fennel and cabbage slaw is a nice foil to the richness of the cutlet and the garlicky mustard aioli.
1. Pound the chicken cutlets out so they are really thin—¼ inch thick at most. Place each cutlet between 2 pieces of plastic wrap or parchment paper, then pound them out until with a meat mallet, rolling pin, or the bottom of a frying pan.
2. Prepare 2 bowls for dredging. In 1 bowl combine the arrowroot powder, water, mustard, and a generous pinch of salt. Whisk until well combined. In the other bowl add the bread crumbs and another generous pinch of salt.
3. Coat each cutlet in the liquid mixture, turning it a few times to make sure it's fully covered, then do the same in the bread crumbs, really pressing the cutlet into the crumbs to make sure they stick and the cutlet is well coated. Place the cutlets on a parchment-paper-lined sheet pan and chill in the fridge for about 30 minutes. This will help the coating stay put when you fry.
4. While the cutlets chill, prepare the aioli. Combine all the ingredients in a ramekin and mix well.
5. To assemble the slaw, combine the cabbage, fennel, apple, celery, and shallot in a bowl. Set aside and toss with the lemon juice, apple cider vinegar, olive oil, and a pinch of salt just before serving.
6. After 30 minutes, the cutlets are ready to fry. Heat a wide, heavy-bottomed skillet over medium-high heat. Add a couple tablespoons of avocado oil, enough to coat the pan.
7. Add the cutlets to the frying pan and cook for about 3 to 5 minutes on each side, until golden. Finish with another sprinkle of salt.
8. Serve the chicken alongside the mustard aioli, slaw, and a lemon wedge.
Originally featured in The Annual New Year Detox: 2022 Edition