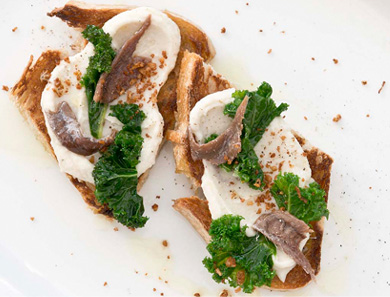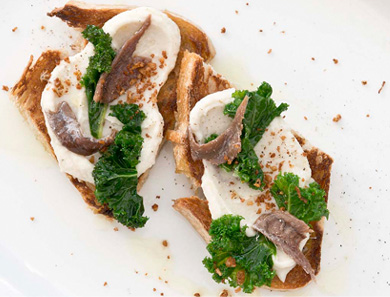 Crème of Roasted Cauliflower, Salted Anchovy & Marinated Cavolo Nero Crostini
In summer months, up to around 85% of each dish is grown on the premises at De Kas in the Netherlands. Head Chef Bas Wiegel lends us a recipe he's made recently – the cauliflower, garlic and kale are grown by De Kas.
1. Clean the cauliflower and slice it into equal parts. Place into a baking dish with a bit of water (just enough to coat the base of the cauliflower) and add the thyme. Cover with aluminum foil. Put the baking dish in a 375°F oven for about 20 minutes until the cauliflower is soft. Blitz the cauliflower in a food processor and slowly drizzle in the olive oil until a smooth crème forms. Season with salt to taste.
2. Slice the sourdough bread into the shape you want. Put some olive oil on the bread. Toast until crispy under the broiler (about 2 minutes on each side). Take care that the bread is crispy on the outside but not completely dry on the inside. (That's not so nice to eat).
3. When the bread is crispy, scrape the clove of garlic over it. Spread the cauliflower crème over the crostini. Portion the anchovy together with the cavolo nero on top. Finish with a little bit of salt, black pepper, a sprinkle of olive oil and the gremolata.
Originally featured in Hyperlocal Restaurants & Recipes