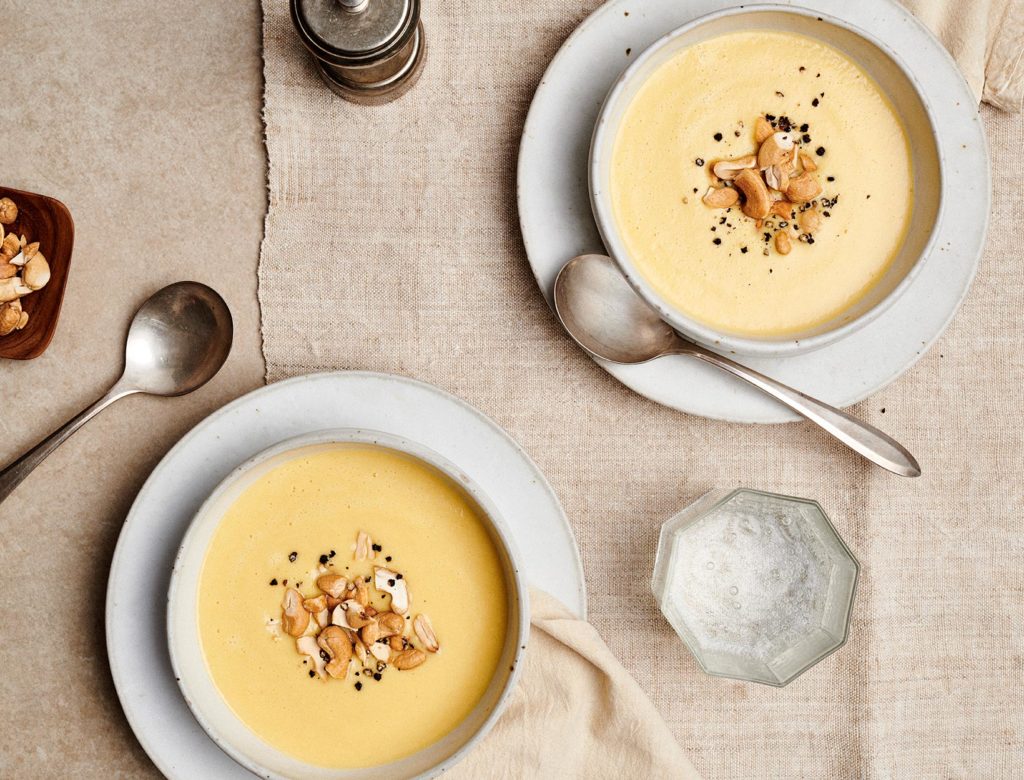 Creamy Cashew and Butternut Squash Soup
Adding cashews to a puréed soup adds richness and body, and it bumps up the protein, giving you some more lasting energy.
1. Preheat oven to 400°F. Season the butternut halves generously with salt and pepper, drizzle each with 1 tablespoon olive oil, and place them flesh side down on a parchment-paper-lined baking sheet. Bake until browned and tender, about 35 minutes.
2. While that cooks, cover the raw cashews with the boiling water and let sit for at least 30 minutes.
3. In a large pot, heat a couple tablespoons of sunflower-seed oil over medium heat. Add the onion, garlic, thyme, and a pinch of salt. Let that cook for about 10 minutes until softened and fragrant.
4. When the squash is cooked, let it cool slightly, then scrape out the flesh of 1 half and add it to saucepan. You should have about 2 cups cooked squash. Cook for a minute or two just to let the flavors meld, then add the cooked squash and sautéed onion mixture to a powerful blender along with the cashews and their soaking liquid. Carefully pulse, then slowly pour in the vegetable stock and blend until smooth. Return the mixture to the pot, bring to a boil, and simmer gently for about 10 minutes. Taste for seasoning and add salt and pepper if desired.
Originally featured in The Annual 5-Day Detox