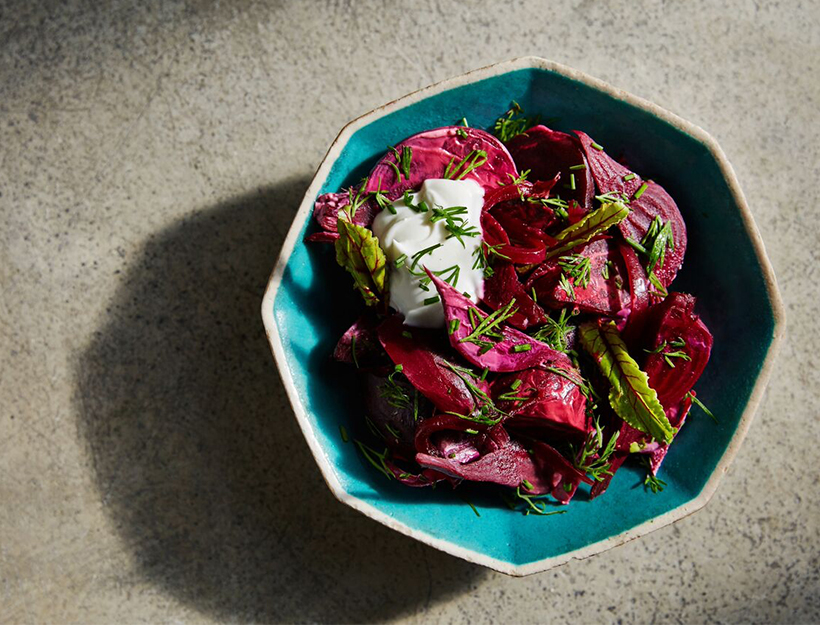 Creamed Beets with Caraway and Onion
Pickled beets can be a bit messy to prepare, but are so worth it. These ones, simply steamed and served with herbs and cool crème fraiche and make a perfect side dish or snack.
1. First, make the pickle; place the peeled and quartered beets, sliced onion, garlic cloves, chopped Serrano chilis, and spices to taste in a large glass or ceramic jar (you might need a couple).
2. Next, make the brine; remember that you need enough brine to completely cover the vegetable, so amounts will vary depending on how big your beets are. To make the brine, simply whisk 1 tablespoon of kosher salt into every cup of water needed. Pour the brine over the beets, top with a small plate or ceramic weight to keep the vegetables submerged, cover with a lid, and let sit in at room temperature (ideally between 60°F and 68°F) for at least 1 week and up to 4 weeks. Since beets are a dense vegetable, it can take a bit of time for the brine to penetrate, so taste a small slice before removing them completely from the brine.
3. To make the creamed beets dish, remove the pickled beets, onion, and garlic from the brine and steam until the beets are just tender (you should be able to stick them with a toothpick without resistance).
4. If serving warm, simply top the steamed veggies with a heap of crème fraîche and some chopped dill and chives.
5. If serving cold, allow the vegetable to cool (at room temperature or in the fridge) before mixing them in a bowl with the crème fraîche and herbs.
Originally featured in Getting Our Fermentation On