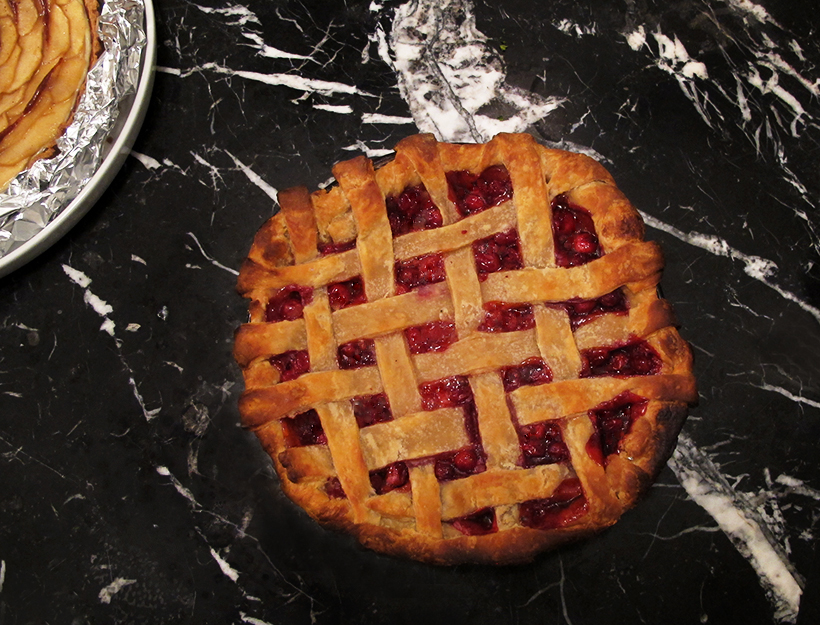 Cranberry-Cherry Pie
Tart cranberries aren't for everyone, but when they're mixed with sweet cherries and baked between two layers of flaky pie crust, they're pretty irresistible.
for the pie:
2 9-inch pie crusts (I use a recipe from Joy the Baker, see below)
2 cups fresh or frozen cranberries
¾ cup sugar
2 tablespoons cornstarch
Cherry pie filling (1 21-oz. can or homemade)
for the crust:
2 ½ cups all-purpose flour
2 tablespoons sugar
1 teaspoon salt
1 cup (2 sticks) cold unsalted butter, cut into cubes
½ cup plus 1 tablespoon cold buttermilk
1. In a medium bowl, whisk together the flour, sugar, and salt. Add the butter and, using your fingers or a pastry cutter, quickly work the butter into the flour mixture until some butter pieces are the size of oat flakes and some the size of peas.
2. Make a well in the mixture, pour in the buttermilk, and, using a fork, stir until a dough forms. Turn the dough out onto a lightly floured counter. It will be moist and shaggy.
3. Divide the dough in half and gently knead each half into a disk. Wrap each disk in plastic wrap and refrigerate for 1 hour.
4. Take out one disk for your bottom pie crust and roll it out until it is 1/8-inch thick and about 12 inches in diameter. Make sure the counter is floured so it doesn't stick. Transfer it to a pie dish and trim the edges. Cover with a plastic wrap and refrigerate for at least 30 minutes and up to 3 hours.
5. Preheat the oven to 425°F.
6. In large bowl, mix cranberries, sugar, and cornstarch; stir in cherry pie filling; spoon into the pie crust-lined plate.
7. Roll out top crust and place it over filling (whole crust or strips for lattice effect).
8. Chill the whole thing for another 30 minutes before baking.
9. Bake at 425 for 35 to 45 minutes until crust is browned and filling is bubbly.
Originally featured in The Memorial Dinner Party