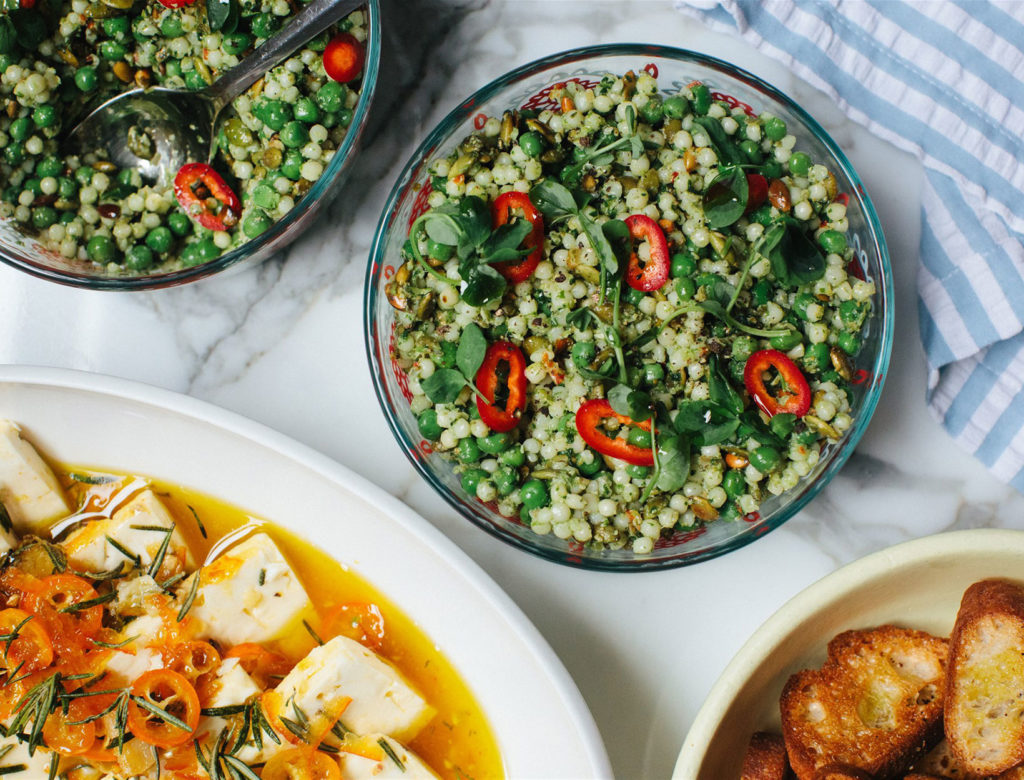 A new take on familiar pasta salads. The pepita-and-pea-tendril sauce is similar to pesto, but seasoning it with earthy cumin and onion powder gives it a uniquely savory flavor. Having this prepped in your fridge makes for a quick and easy lunch.
1. In a pot of salted boiling water, cook couscous until tender, 8 to 10 minutes. Strain and drizzle with oil. Set aside in a large bowl.
2. In the same pot, boil a new batch of salted water. Blanch the peas, 2 to 4 minutes. Submerge the peas in a bowl of ice water until completely cooled, then drain. Add the peas to the bowl of couscous.
3. Make the sauce: In a high-speed blender, add the pea tendrils, ¼ cup pepitas, lemon juice and zest, cumin, and onion powder. While the motor is running, stream in the oil. Season with salt and pepper.
4. Add the remaining ½ cup pepitas and minced chilies to the bowl of couscous and peas. Dress with sauce to taste and transfer to a shallow bowl. Garnish with pea tendrils, pepitas, and Fresno chili rings.
Originally featured in 4 Easy Recipes to Prep for the Week Ahead