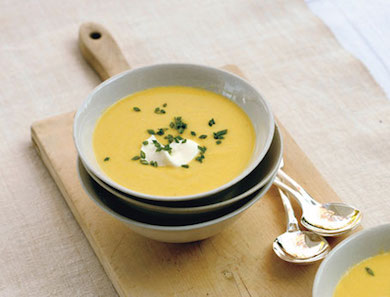 Corn Vichyssoise
Corn cobs fortify the base of this cold, creamy soup. Then the trick is to leave it simple, highlighting the taste of the corn and summer.
2 tablespoons extra-virgin olive oil
2 medium leeks, white and light-green parts only, coarsely chopped (about 1 1/2 cups)
5 ears shucked corn, kernels cut from cobs, cobs reserved
1 cup coarsely chopped peeled potato (about 1 medium)
4 cups good-quality vegetable stock
Kosher salt and freshly ground black pepper
1 tablespoon fresh lemon juice
1/4 cup crème fraîche or sour cream
1 tablespoon finely chopped fresh chives
1. Heat oil in a large heavy pot over medium heat. Add leeks and cook, stirring occasionally, until they begin to soften, about 5 minutes.
2. Add corn kernels, reserved cobs, potato, and stock. Season lightly with salt and pepper. Increase heat to high and bring soup to a boil. Reduce heat to simmer, cover with lid slightly ajar, and cook until the vegetables are very soft, about 35 minutes.
3. Discard corn cobs; let soup cool slightly.
4. Working in batches, purée soup in a blender until very smooth.
5. Set a fine-mesh strainer over a large bowl; strain, discarding solids.
6. Chill soup until cold. If too thick, thin with water by 1/4-cupfuls.
7. Stir in lemon juice, and season with salt and pepper.
8. Spoon a dollop of crème fraîche atop each serving and sprinkle with chives.
Originally published on Bon Appetit.