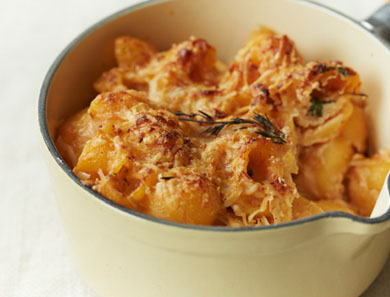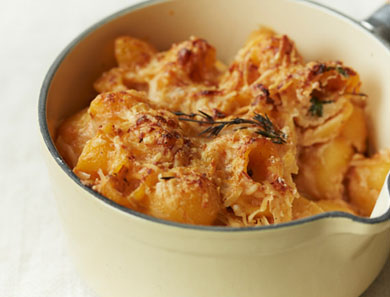 Corn Shells n' Cheese with Sun Dried Tomatoes
The sun-dried tomatoes mixed with the mascarpone and a bit of cream make a beautiful pink sauce, which is a kid-friendly alternative to vodka sauce.
1. Bring a large pot of water to a rolling boil and salt generously. Drop in pasta.
2. Meanwhile, add a tablespoon of butter to a large frying pan over medium heat. Add garlic and cook for a minute until soft and fragrant, being careful not to burn the butter. Add the cream and milk and cook for a minute. Allow to rest.
3. In a large blender, add the garlic/milk/cream mixture along with the mascarpone, parmesan, sundried tomatoes and anchovies. Blend until combined.
4. When shells are al dente, drain and add to a baking dish. Pour the cheese mixture over the shells and mix to combine. Season with salt and pepper. Thickly grate a layer of parmesan over the shells, and add a sprig of thyme on top.
5. Pop the shells under the broiler for about a minute or two until the cheese begins to bubble and brown. The top will be nice and crusty and the shells will still be gooey and delicious.
Originally featured in Gluten Free Pasta