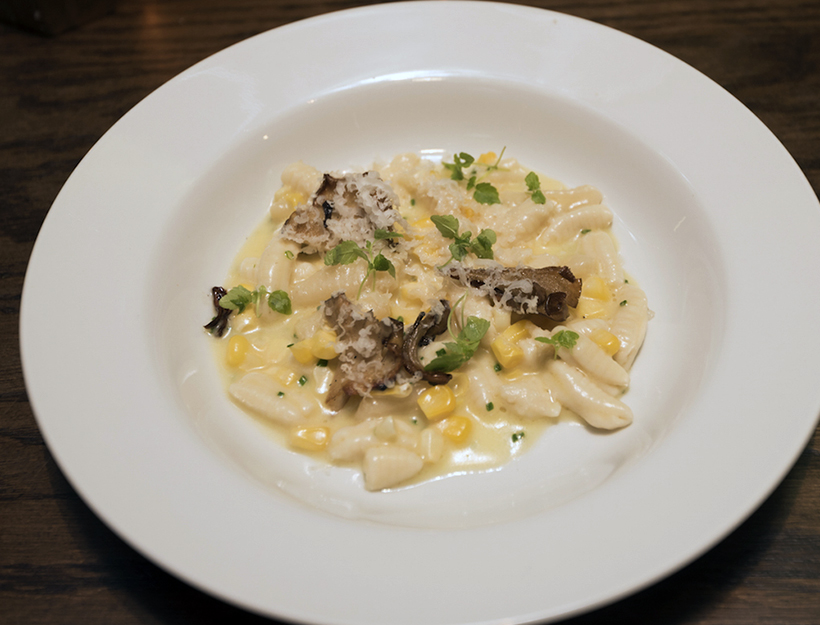 Corn and Mushroom Cavatelli with Goat Gouda Cheese
This just might be the dreamiest, creamiest mac 'n' cheesiest pasta we've ever had.
1. To make the ricotta cavatelli, combine all the ingredients in a mixer with a dough hook attachment until the mixture is smooth. Let the dough rest, then roll out using a store bought cavatelli maker.
2. Using a sharp knife, cut the kernels off the 8 ears of corn. Push the kernels through a juicer and strian the liquid through a fine mesh sieve. Pour the juice into a medium saucepan, bring to a boil, and cook until thickened (the starch in the corn will naturally thicken the juice). Reserve at room temperature.
3. To cook the mushrooms, heat 1 tablespoon of the butter in a medium sauté pan over high heat. Cook until the butter becomes golden and foamy, then add the mushrooms. Season with salt and cook until crispy on the outside and tender on the inside.
4. To finish the dish, have a large pot of boiling salted water ready. In a large sauté pan or medium dutch oven, add the remaining 2 tablespoons butter, 1 cup of the thickened corn juice, the fresh corn kernels, and the roasted mushrooms.
5. Drop the pasta into the boiling water until they float. Use a slotted spoon to remove the cooked pasta and add it to the corn/mushroom mixture along with 1/2 cup of the pasta cooking water. Cook over high heat until the mixture becomes thick and saucy.
6. Serve in small bowls and finish with freshly grated gouda cheese.
Originally featured in DIY Boka's Cheesy Pasta (and More) at Home