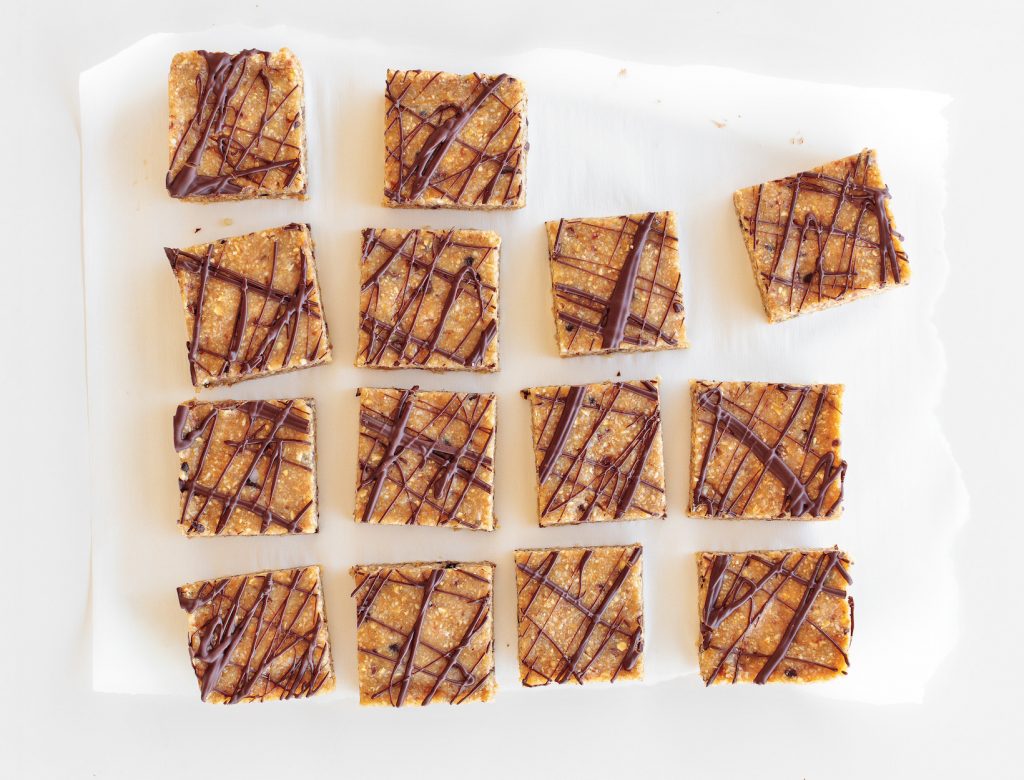 Cookie Dough Bars
"These double as a protein snack or a sweet treat at the end of the day. They really taste like cookie dough! I'll always make two batches because they're sure to fly out of the house." —Lily Kunin, author, Good Clean Food
for the bars:
3 medjool dates, pitted
¾ cup (90 grams) raw cashews
½ cup (45 grams) gluten-free rolled oats
½ cup (45 grams) unsweetened coconut flakes
¼ teaspoon sea salt or pink salt
1 tablespoon pure vanilla extract
¼ cup (30 grams) cacao nibs or dark chocolate chips (45 grams)
for the chocolate sauce:
¼ cup (20 grams) raw cacao powder, plus more as needed
2 tablespoons coconut oil, plus more as needed
1 tablespoon raw honey or maple syrup, plus more as needed
pinch of sea salt or pink salt
1. Place the dates in a small bowl and pour in enough hot water to cover them; let them sit for at least 5 minutes. Line a small pan with parchment and set aside.
2. To a food processor, add the cashews, oats, coconut flakes, salt, and vanilla and blend until a fine meal forms. If you don't have a food processor, you can use a high speed blender in its place. Add the dates (make sure there are no pits!), 3 tablespoons of the water the dates have been soaked in, and the vanilla extract. Pulse again until the mixture becomes doughy. Transfer it to a small bowl. Gently fold in the cacao nibs.
3. Use your hands to evenly press the dough into the pan. Place it in the freezer while you make the chocolate sauce.
4. Heat a double boiler and add the cacao powder, coconut oil, honey, and salt. Stir and adjust to taste, adding more honey if desired. The chocolate should be runny enough to be drizzled, but not too thin. For a thicker sauce, add more cacao powder; to thin it, add more coconut oil.
5. Take the pan out of the freezer and drizzle the chocolate sauce over the top. Place the pan back in the freezer and allow the sauce to set for about 20 minutes. Cut it into 12 squares, and enjoy! Store them in the fridge for up to a week or in the freezer for a few months.
From Good Clean Food by Lily Kunin, published by Abrams Books, copyright 2017.
Originally featured in A Week's Worth of Easy, Healthy Cooking from Clean Food Dirty City's Lily Kunin