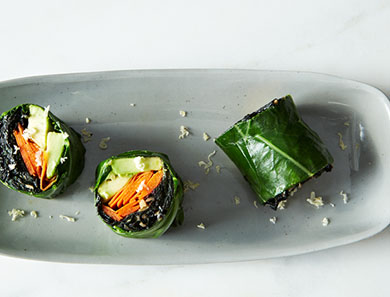 Collard Roll-Ups with Coconut Curry Kale
We love the ingenuity of this recipe, from the kale-collard greens combo to the garlic, coconut, curry, and orange filling. It's delicious, and the sushi roll presentation makes it perfect for a bento box lunch.
1. To blanch collard leaves: Add about 1 inch of water to a large sauté pan (enough to coat the bottom with liquid). Bring to a boil. Place a collard leaf in the pan and blanch until it turns bright green, about 10 to 15 seconds on each side. Repeat with the remaining leaves. Let cool and then cut out the thick part of the spine, leaving at least 8 inches to fill and roll. Set aside.
2. Add the coconut oil to a large sauté pan over medium heat. Once melted, add the garlic, orange juice, orange zest, maple syrup, curry powder, and sea salt. Mix well and sauté until mixture begins to bubble, approximately 2 to 3 minutes. Add the kale and toss to coat. Cook until the kale becomes tender and wilted, approximately 3 to 5 minutes. Remove from heat and set aside to cool.
3. Place a collard leaf top side down on a cutting board. Spread ¼ of kale sauté in the center of the leaf horizontally. Then add ¼ of the avocado slices and a ¼ of the carrot ribbons. Roll the collard leaf around the ingredients from the bottom up, like a sushi roll. Cut any excess from the leaf at the end. Slice with a sharp knife into 1½-inch sections. Sprinkle with freshly grated horseradish and enjoy!
Contributed by Diane Hoch for our Dark Leafy Greens contest with Food52. 
Originally featured in Dark Leafy Green Recipes