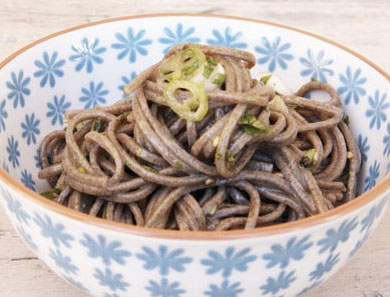 Cold Soba Noodle Salad
Soba noodles are wonderful and really good for you – hot or cold. Here, I tossed the al dente cold noodles with a bright combo of soy, sesame and herbs. Lovely on its own or accompanying grilled salmon.
8 ounces buckwheat soba
2 teaspoons soy sauce
2 teaspoons light agave nectar
2 teaspoons mirin
1 tablespoon rice wine vinegar
1 tablespoon toasted sesame oil
1/4 cup neutral oil (grapeseed)
1 tablespoon black sesame seeds or Eden Shake (a prepared mixture of sesame seeds and seaweed)
1/4 cup chopped fresh cilantro
4 scallions, thinly sliced
1. Cook the soba in boiling water, according to the package directions (about 6 minutes). Immediately rinse the soba under cold water.
2. Meanwhile, whisk together the soy sauce, agave, mirin, vinegar and oils in a large bowl.
3. Toss the cold soba with the dressing and mix in the sesame seeds, cilantro and scallions.
Originally featured in Summer Salads