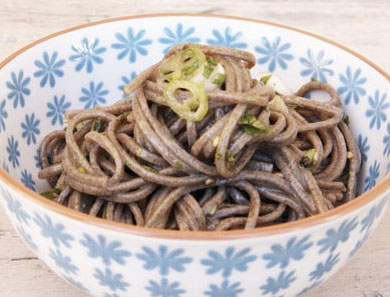 Soba noodles are wonderful and really good for you – hot or cold. Here, I tossed the al dente cold noodles with a bright combo of soy, sesame and herbs. Lovely on its own or accompanying grilled salmon.
1. Cook the soba in boiling water, according to the package directions (about 6 minutes). Immediately rinse the soba under cold water.
2. Meanwhile, whisk together the soy sauce, agave, mirin, vinegar and oils in a large bowl.
3. Toss the cold soba with the dressing and mix in the sesame seeds, cilantro and scallions.
Originally featured in Summer Salads