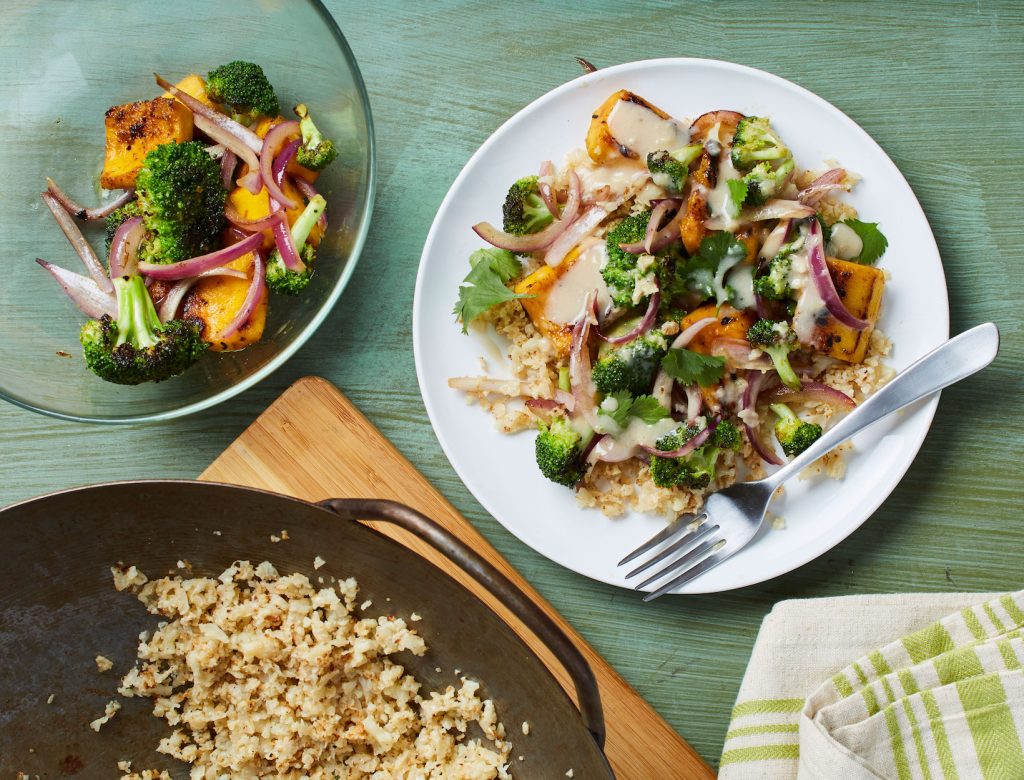 Coconut Veggie Stir-Fry with Cauliflower Rice
This recipe is one of our favorites from Ketotarian, Cole's practical food book: It's a simple, plant-based way to approach a ketogenic meal. Bonus: It takes only 10 minutes to prep and 15 minutes to cook.
1. Place the cauliflower in the container of a food processor. Cover and pulse until the cauliflower is finely chopped (about the size of rice). Set aside.
2. In a large wok, stir-fry the broccoli and squash in the sesame oil over medium-high heat for 4 to 5 minutes, or until the vegetables are crisp-tender. Reduce the heat to medium if the vegetables brown too quickly. Add the onion and stir-fry for 2 minutes more. Transfer the vegetables to a bowl; cover to keep warm.
3. To the same wok, add the ginger and garlic. Cook and stir over medium-low heat for 30 seconds. Carefully add the coconut milk, liquid aminos, vinegar, ¼ teaspoon salt, and ⅛ teaspoon pepper. Bring to a boil. Reduce the heat to low and simmer, uncovered, for 5 minutes, or until the sauce is slightly thickened.
4. Meanwhile, in a large skillet heat, the coconut oil over medium heat. Add the cauliflower rice, the remaining ¼ teaspoon salt, and the remaining ⅛ teaspoon pepper. Cook, stirring frequently, for 3 to 5 minutes, or until the cauliflower is just tender and starting to brown.
5. Return the vegetables to the wok. Cook and stir for 1 minute to heat through. Spoon the cauliflower rice evenly onto two serving plates. Top with the broccoli mixture and sauce. Sprinkle with the coconut and cilantro.
Originally featured in The Plant-Based Ketogenic Diet