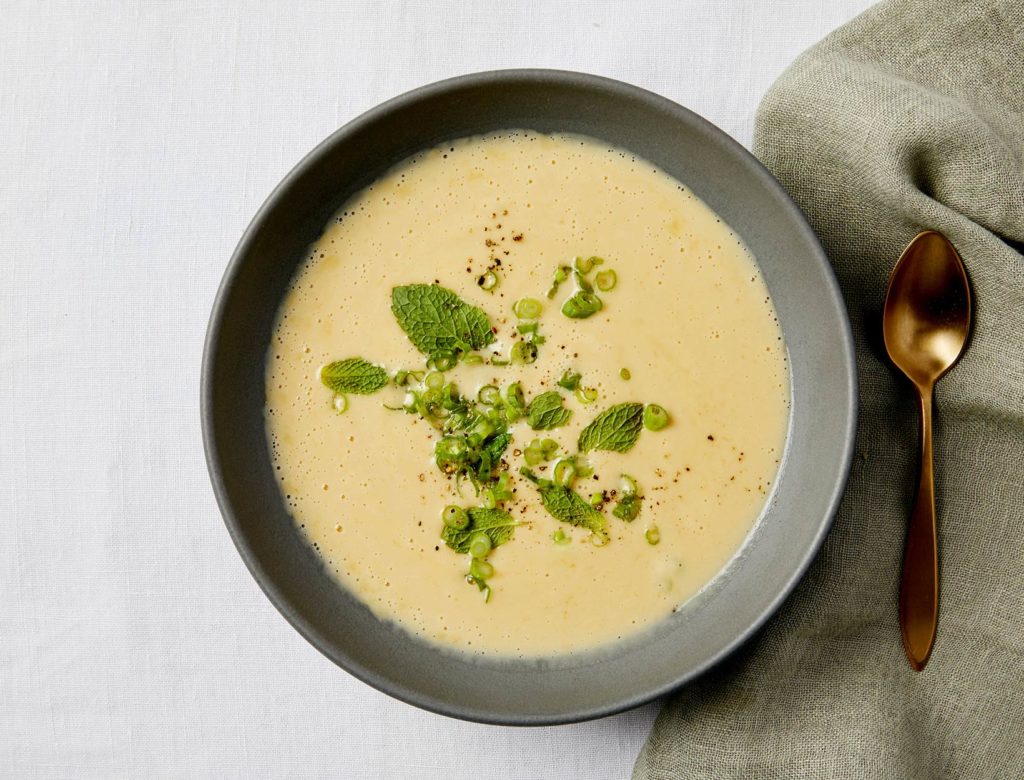 Coconut, Lemongrass, and Parsnip Soup
There's some sweetness and a little kick to this creamy soup, which is often what we want when we're not feeling well. We added parsnips for flavor and function—this unglamorous vegetable may be the next superfood. Parsnips provide multiple vitamins and minerals, including vitamin C, for the immune system and overall good health, says Gerda Endemann, our senior director of science and research.
2 tablespoons coconut oil
2 shallots, finely chopped
2 cloves garlic, finely chopped
1 stalk lemongrass, smashed well
1 can full-fat coconut milk
4 cups vegetable stock
2½ cups chopped parsnips
1 serrano chili, seed and pith removed, finely chopped
kosher salt
6 sprigs mint, leaves removed
2 scallions, thinly sliced
1. In a large pot over medium heat, heat the coconut oil, then add the shallots, garlic, and serrano chili and sauté until translucent and fragrant, 5 to 8 minutes. Add the stock, coconut milk, lemongrass, and parsnips. Bring to a boil, then reduce the heat and simmer until the parsnips are cooked through.
2. Turn the heat off and remove the lemongrass. Using an immersion blender, blend the mixture until smooth. Turn the heat back on and bring the soup back to a boil and cook to your desired thickness.
3. Salt to taste and finish with the mint leaves and scallions.
Originally featured in The Immune-Friendly Soups We're Making This Flu Season