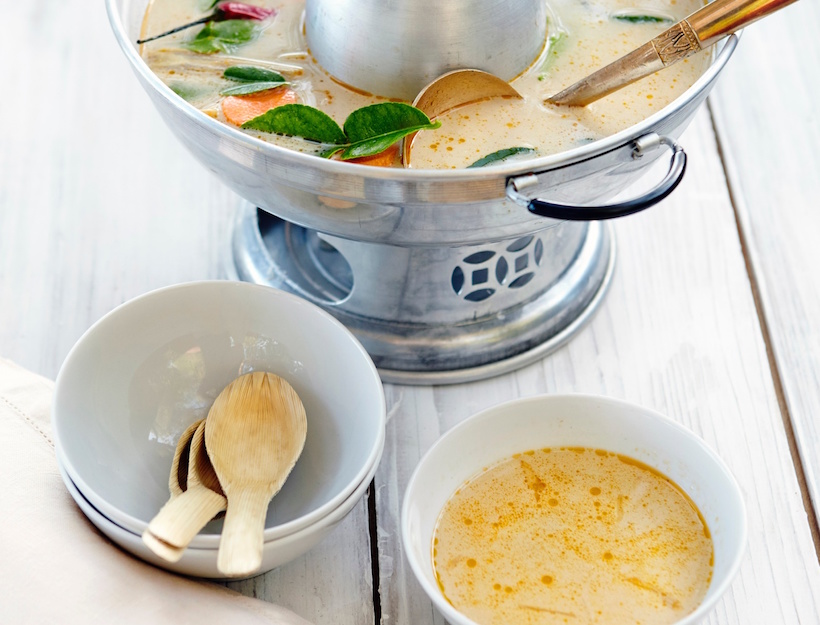 Coconut Galangal Broth
"This creamy broth packs a punch, and the first time I made it, I did a happy dance in my kitchen. It also felt like a happy dance in my mouth. The broth is admittedly special and highlights Thai flavors, without them overwhelming one another. The delicate aroma and flavor that comes from galangal in contrast to coconut milk and lime juice create an addictive but healthy concoction."
2 cups light coconut milk
7 slices young galangal (ginger will work in a pinch)
3 stalks lemongrass, cut into 1-inch-long pieces and bruised
1 medium-size sweet potato, peeled and sliced into 1-inch rounds
4 kaffir lime leaves, torn
5 cups spring water
1 tablespoon Himalayan pink salt
2 1/2 teaspoons freshly squeezed lime juice
fresh cilantro sprigs, for garnish
1. Heat the coconut milk in a soup pot over medium heat and bring to a boil.
2. When boiling, add the galangal, lemongrass, sweet potato, and kaffir lime leaves.
3. Lower the heat, add the spring water, cover, and simmer for an hour.
4. Remove from the heat and let stand for about 20 minutes to absorb the flavors.
5. Discard the veggies and season with the salt and lime juice.
6. Garnish with fresh cilantro sprigs and serve hot.
Originally featured in Make Ahead Soups