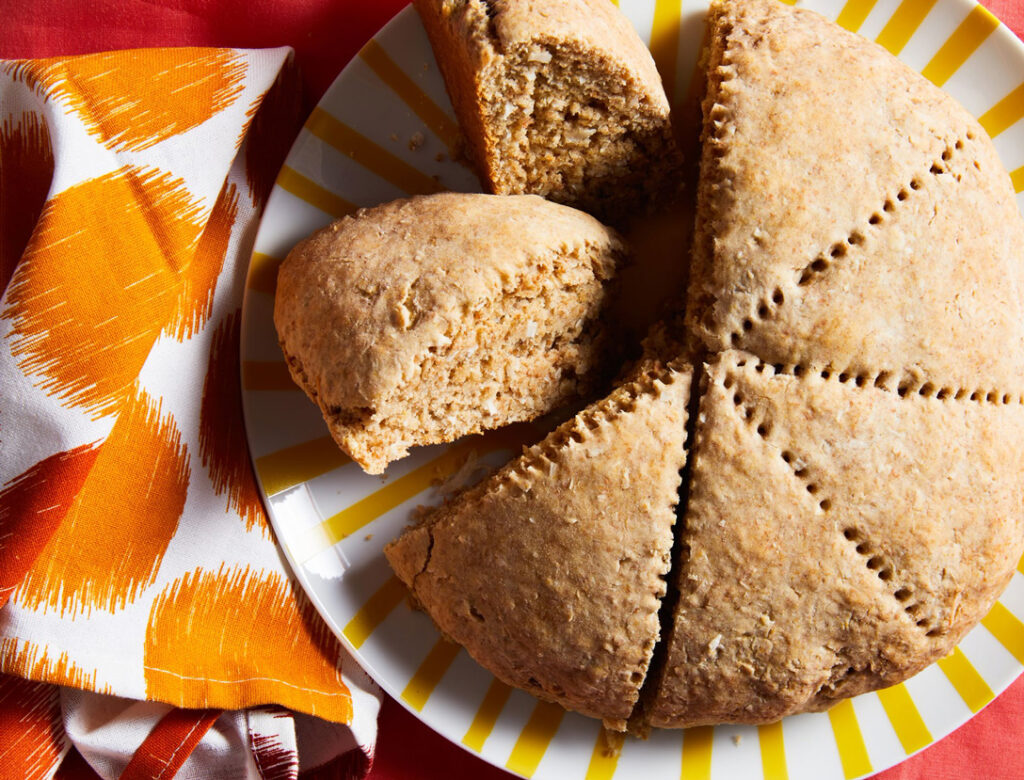 Coconut Bake
"A type of quick bread sometimes called johnnycake, this bake is enjoyed in many Caribbean islands and reminds me of my grandmother's house. It can be baked or fried, and for this recipe, I've chosen to bake it and add coconut. I suggest enjoying it with salt fish, callaloo, and ripe avocado."
1½ cups white bread flour, plus more for rolling the dough
1½ cups whole wheat bread flour
2 tablespoons baking powder
1 pinch kosher salt
½ cup nonhydrogenated plant-based spread
¾ cup unsweetened coconut flakes
1⅔ cups full-fat coconut milk
1. Preheat the oven to 375°F. Line a sheet pan with parchment paper.
2. In a large bowl, add the flours, baking powder, salt, and plant-based spread. Mix the ingredients until just combined and crumbly. Add the coconut flakes and coconut milk slowly while working the dough into a ball.
3. Place the dough on a lightly floured surface and roll into a 1-inch-thick circle. Prick the dough with a fork to make a design. Transfer to the prepared sheet pan and bake for 25 to 30 minutes, until golden. Remove from the oven and allow to sit until the bread reaches room temperature.
4. To serve, slice and enjoy with salt fish and callaloo.
Recipe from Eating from Our Roots. Copyright © 2023 by Maya Feller. Photography copyright © 2023 by Christine Han. Published by goop Press/Rodale Books, an imprint of Penguin Random House, LLC. Reprinted with permission.
Originally featured in 3 Nourishing Trinidadian Recipes from Nutritionist Maya Feller