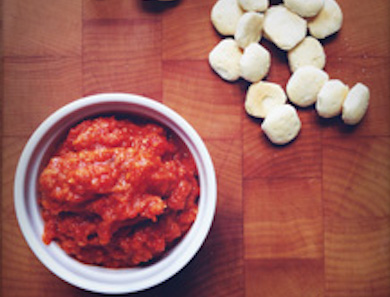 We like this fresh tomato base instead of the usual ketchup.
1. Score the tomatoes and cover with boiling water. Let cool then peel to remove skin.
2. Core the tomatoes then scoop out the caviar (the insides). Press the caviar through a sieve, retaining the juice and discarding the seeds.
3. Put the deseeded tomatoes and the juice into a sauce pan over low heat, breaking up the tomatoes with the back of a wooden spoon. Add a pinch of salt and dash of olive oil to the pan and let it all simmer for about 30-45 minutes until reduced to a heaping 1/2 cup. Let it cool in the refrigerator.
4. Combine the juice of 1 lemon, the worcestershire sauce and sugar in a small mixing bowl and mix until sugar dissolves. Add to the cooled tomato mixture. Add the horseradish and wasabi powder and mix to combine. Season with salt and pepper to taste.
Originally featured in Summer Tomato Recipes