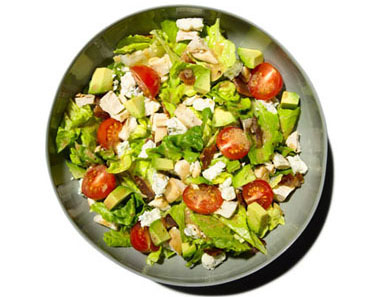 Cobb Salad
The key to this salad being delectable and fresh is to keep it undressed and the tomatoes and avocado separate until ready to eat.
2 heads baby gem lettuce, torn into small pieces, washed and dried
3 ounces grilled chicken or cooked turkey breast, diced
3 ounces crumbled blue cheese
2 slices bacon (turkey or pork), cooked until crisp and then crumbled
1 teaspoon Dijon mustard
1 tablespoon red wine vinegar
pinch of sugar
3 tablespoons extra virgin olive oil
coarse salt
freshly ground black pepper
small handful cherry tomatoes
1/2 of a ripe avocado, wrapped tightly with plastic wrap
1. Put the lettuce in the bottom of a plastic container.
2. Scatter over the chicken or turkey, blue cheese and bacon and put a lid on it.
3. Whisk together the mustard, vinegar, pinch of sugar and oil, season with salt and pepper and pack the dressing into a small container.
4. When you're ready to eat, cut the tomatoes in half and score the avocado in its shell and then scoop out the pieces with a spoon. Shake the vinaigrette in its container and then pour over your salad.
Originally published on GQ.