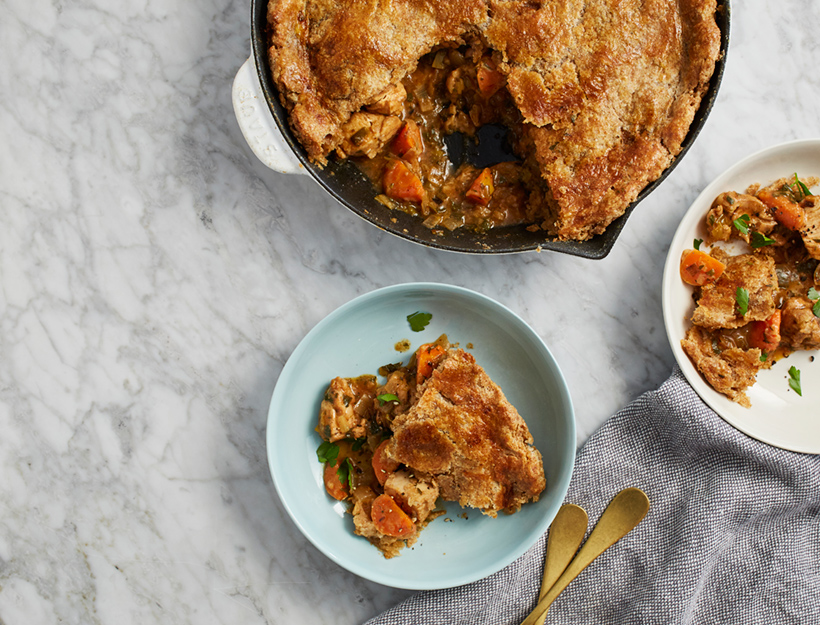 Cleaned-Up Chicken Pot Pie
"While many chicken pot pies can feel heavy and laden with cream, this filling uses vegetables and fresh herbs to build a beautiful, rich flavor. Crusts have gotten an unfair reputation for being difficult, but this fifteen-minute short crust will change your mind. It's easy as, well, pie—and healthier than anything you can buy prepared (spelt, an ancient grain that's easier on digestion, stands in for white flour). I love to make one on Sunday night and eat it throughout the week."
1. First, make the crust. Place butter, still in stick form, in the freezer for 1-2 hours.  
2. When you're ready to make the crust, preheat oven to 400 degrees and mix the flour and salt in a large mixing bowl. You want to keep the butter as cold as possible while you're working so refrain from touching it more than you have to—and bonus points if you want to pop your mixing bowl in the freezer for 10 minutes before using it. Using a cheese grater, grate your butter into the flour. Using a pastry cutter (or two butter knives, held like scissors) and chop the butter into the flour until the mixture resembles a coarse meal.
3. Add the apple cider vinegar and 1 tablespoon of ice water, mixing with your hands as you go. Add the rest of the ice water one tablespoon at a time until the dough can just be held together.  
4. Separate the dough into two pieces and shape into balls. Put one ball in the fridge and roll out the second with flour and a rolling pin in a circular shape. Fold this into quarters and transfer to your pie pan, unfolding it and molding it to the pan's edges. Place the pan in the fridge and carry on with the filling.
5. Place chicken, flour, paprika, thyme, salt, and pepper in a large Ziploc bag and shake well to coat. Set aside.
6. In a large, heavy bottomed pot, melt 2 tbsp oil over medium heat. Add onions and leek and sauté until translucent.
7. Add carrots and cook for 2-3 more minutes. Add 1 tbsp of oil, add chicken. Stirring constantly, cook until chicken is brown, scraping the bits at the bottom of the pan to incorporate as you go.
8. Add chicken broth, apple cider vinegar, and white wine. Bring to simmer. Simmer until thick, about 10 minutes.
9. Add chopped parsley. Remove from heat and let cool for 10 minutes before transferring to pie crust.
10. When the filling is finished and cooling, take the other ball out of the fridge and roll and fold into quarters again. Add the filling to the prepared pie pan and lay and unfold the other circle, pinching the edges of the dough to seal the filling inside. Whisk the egg in a small bowl to make an egg wash, then brush over the dough (this will help it brown).
11. Bake in the preheated oven for 20-30 minutes or until golden brown.
Originally featured in Cleaned-Up Comfort Foods