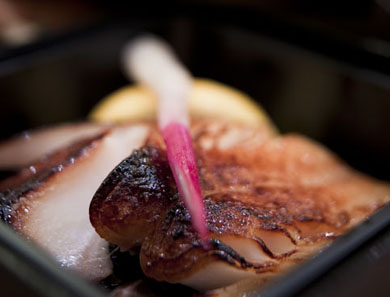 Clean Black Cod with Miso
An omega-3 fatty acid packed fish, black cod pairs well with the tangy, sticky white miso, and this recipe is great for those on a cleanse.
1. Mix the brown rice syrup, nama shoyu and white miso paste in a container (with lid) and set aside.
2. Clean the fillets and pat them dry.
3. Place the fish into the container, coat them with the marinade, cover and refrigerate overnight.
4. Preheat the oven to 400°F.
5. Remove the fish from the fridge and scrape off the marinade.
6. Coat a grill pan with olive oil and set to high heat.
7. Add the fish and cook until browned on each side, about 2 minutes.
8. Transfer the fillets to the oven and bake for about 10 minutes, until nice and flaky.
Originally featured in Healthy Recipes