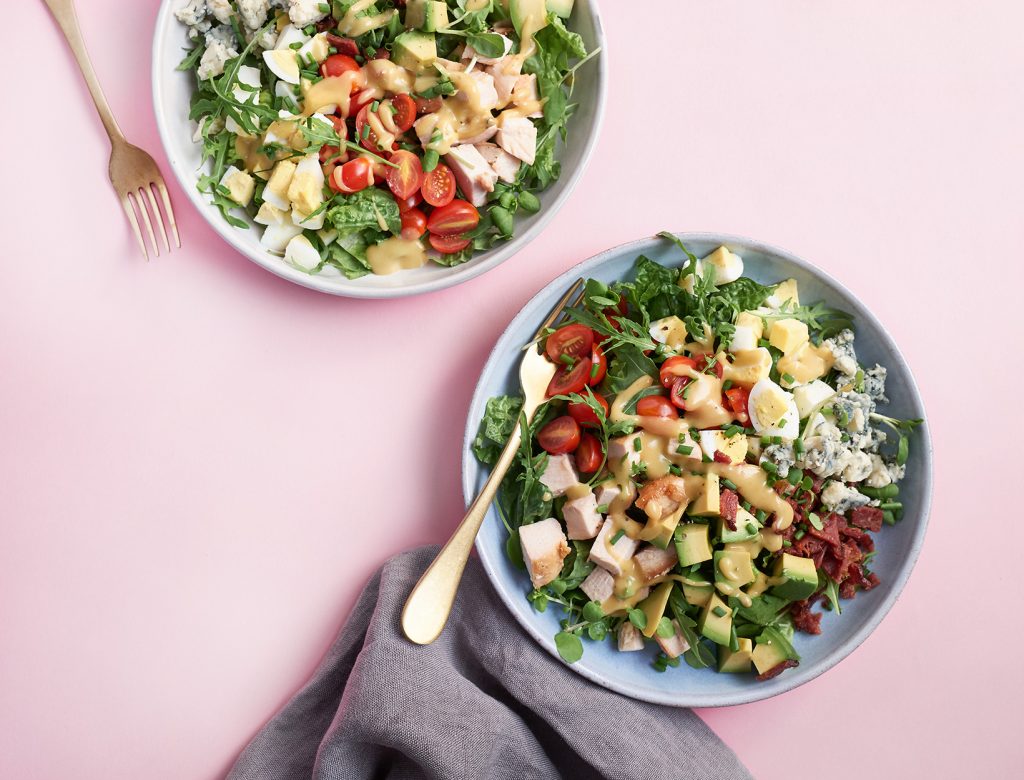 Classic Cobb Salad
An oldie but a goodie, this is one of our favorite ways to use up leftover roast chicken. Roast turkey bacon in a 400°F oven for 20-30 minutes to get perfectly crispy bacon and very minimal mess.
for the salad:
Mixed lettuces such as bibb, watercress, and romaine
1 roasted chicken breast (or rotis, cut into 1-inch pieces
½ cup cherry tomatoes, cut in half
3 slices cooked turkey bacon, roughly chopped
2 ounces blue cheese, crumbled
½ large avocado, diced
2 hard-boiled eggs, diced
1 tablespoon chives, finely chopped
sea salt and black pepper
for the dressing:
1 tablespoon dijon mustard
1 tablespoon red wine vinegar
½ teaspoon honey, coconut nectar, or agave
3 tablespoons olive oil
salt and pepper to taste
1. To make the dressing, whisk together the dijon mustard, red wine vinegar, and sweetener of choice in a small bowl. Slowly pour in olive oil, whisking constantly, and season with salt and pepper to taste.
2. To make the salad, arrange lettuces on two plates or one platter. Arrange the chicken, cherry tomatoes, chopped bacon, crumbled blue cheese, diced avocado, and diced hard-boiled eggs on top in even rows. Season avocado, tomatoes, and hard-boiled eggs with sea salt and freshly ground black pepper.
3. Drizzle over half the dressing and scatter with chopped chives.
4. Serve with remaining dressing on the side.
Originally featured in Refreshingly Simple Salad Ideas for When It's Hot Out