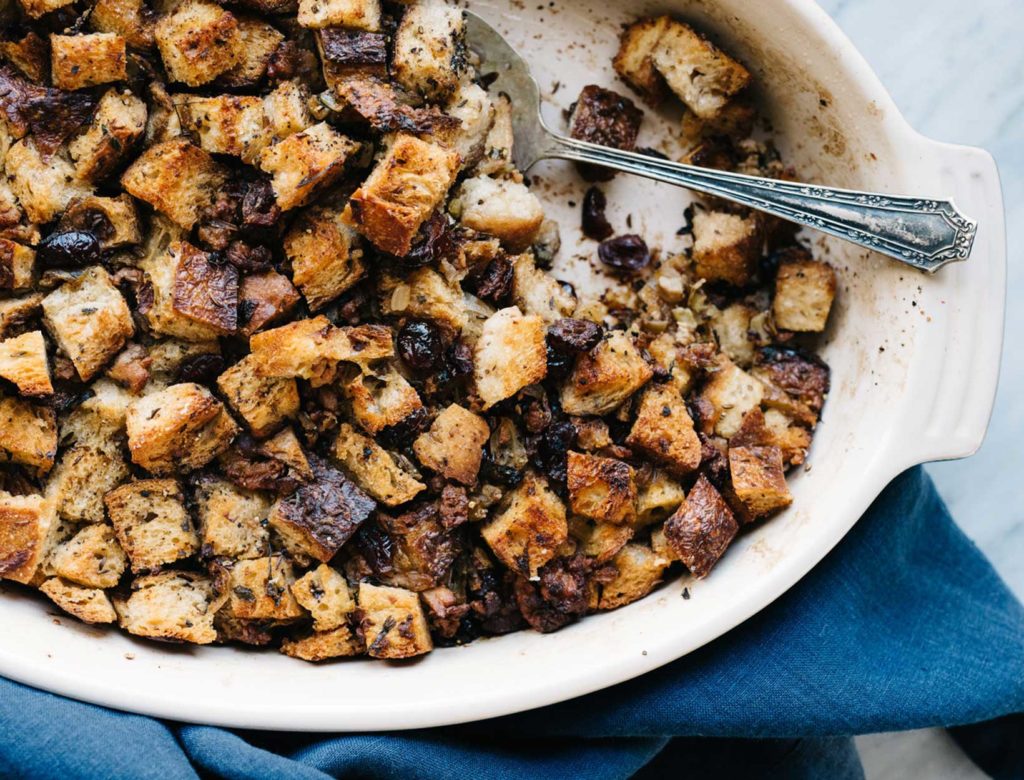 Classic Bread Stuffing
Generous on the onions and fennel seeds, this stuffing is hearty and satisfying but not soggy or heavy as stuffing can sometimes be.
15 cups (½-inch) bread cubes (I usually have challah, whole-grain, and ciabatta in my bread bin)
¼ cup plus 1 tablespoon butter, cut into small pieces
¼ cup plus 1 tablespoon olive oil
1 very large onion, very finely diced (roughly 2½ cups)
2 stalks celery, very finely diced (roughly ½ cup)
2½ teaspoons fennel seeds
¾ teaspoon celery seeds
2 generous tablespoons finely chopped fresh rosemary
2½ teaspoons coarse salt
1 teaspoon freshly ground pepper
2½ tablespoons roughly chopped fresh parsley
2½ cups high-quality vegetable stock, divided
1. Preheat the oven to 300ºF.
2. Spread the bread cubes out on 2 cookie sheets and bake for about 10 minutes or until a bit dried out but not browned.
3. Meanwhile, heat the ¼ cup butter and ¼ cup olive oil over medium heat in a large sauté pan. Add the onion, celery, fennel and celery seeds, rosemary, salt, and pepper and sweat the mixture for 20 minutes, keeping the heat low enough so that the vegetables don't color—you just want them to get soft and sweet. Turn off the heat, add the parsley, and let the mixture cool for about 10 minutes in the pan.
4. Add the bread cubes and 2 cups stock; stir to evenly distribute. Let the mixture sit for about an hour to let the flavors really get into everything (now's a good time to work on your other Thanksgiving dishes!).
5. Reserve 2 cups of the stuffing for the turkey if desired.
6. Set the oven to 350ºF. Put the stuffing into an ovenproof baking dish (you could even leave it in your sauté pan if it doesn't have plastic handles—one less thing to wash!). Pour over the remaining stock and dot with the remaining tablespoon of butter. Bake for 25 minutes, or until the top is lightly browned.
Originally featured in Thanksgiving Recipes