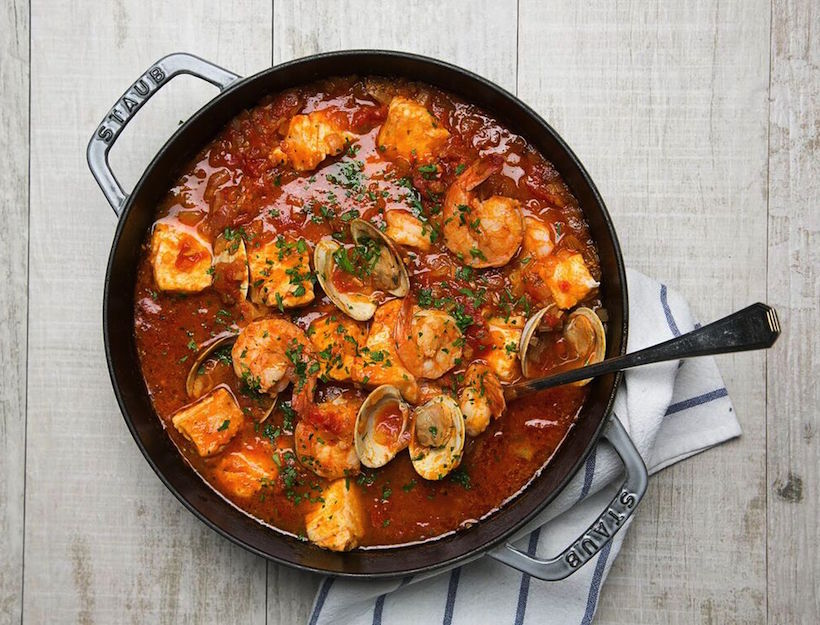 Cioppino is a classic San Francisco fish stew made with tomatoes, fennel, oregano, white wine, and a mix of seafood commonly found in the Pacific Ocean, such as Dungeness crab, mussels, halibut, shrimp, and clams. We simplified with just halibut, clams, and shrimp in this version, but use whatever mix you like. We think it makes the perfect winter one-pot meal; warming and easy to make but light enough that it won't weigh you down.
1. Heat olive oil in a 4- or 5-quart Dutch oven over medium heat. Add onion and fennel and sauté until translucent and starting to brown, about 10 minutes.
2. Add garlic, fennel seeds, oregano, chili, and bay leaf and sauté for another 3 minutes.
3. Add the white wine, turn the heat up to high, and cook 3 to 5 minutes or until the alcohol has cooked off and most of the liquid has evaporated.
4. While the wine cooks, pour the whole tomatoes and their juices into a large bowl and use your hands to crush the tomatoes.
5. Add crushed tomatoes and all of their juices to the pan along with a generous pinch of salt. Bring the mixture up to a boil, reduce to a simmer, then partially cover with the lid and simmer gently for 45 minutes.
6. Add the fish stock and continue simmering for at least 10 to 15 minutes.
7. Add clams, let them cook in the broth for 2 minutes, then add fish and shrimp and cook 4 to 5 minutes more, or until clams are open and fish and shrimp are just cooked through.
8. Taste for seasoning and add salt, pepper, and a pinch of sugar, if desired. Garnish with chopped parsley and serve with warm bread on the side.
Originally featured in Quick One-Pan Dinners