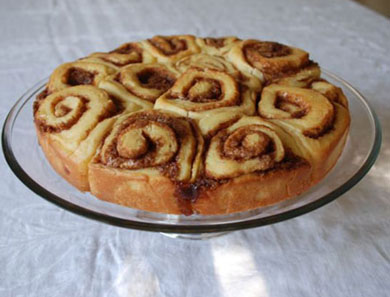 Cinnamon Rolls A.K.A. Sin-Amon Rolls
You could wear these on your ears to complete your Princess Leia Halloween costume!
FOR THE DOUGH:
1. In the bowl of the electric mixer with paddle attachment, mix 2 cups flour with the yeast. In a small saucepan over medium heat stirring constantly warm the milk, butter, sugar and salt until butter is just melted. With the mixer on low, slowly add the milk mixture into the flour and yeast mixture. Add the eggs one at a time. Beat on high for 3 minutes. Replace the paddle with a dough hook and knead in 2½ cups flour for about 4 minutes. You don't want dough to be too sticky so add more flour if necessary until it's smooth.
2. Shape the dough into a ball. Place the dough in a greased bowl and turn it over once. Cover with a clean cloth and let it rise! This usually takes about an hour to an hour and half. Then punch it down (be nice!) and place on a lightly floured surface, cover with a clean cloth and let it rest for 10 minutes.
NOW FOR THE FILLING!
3. Combine brown sugar, flour and cinnamon in a mixing bowl. Cut in cold butter and mix until crumbly. Set aside.
TO FINISH:
4. Roll the dough into a 12″ square. Evenly sprinkle over filling. Roll dough into a log and pinch the edges to seal. Slice log into 12-14 rolls. Arrange in a greased round cake pan. Cover loosely with plastic wrap and let the rolls rise for an hour or so until nearly doubled in size (or refrigerate for up to a day but let it sit out for 20-30 minutes before baking).
5. Bake at 375°F for 30 minutes or until light brown. Cool for 10 minutes then invert onto a large round serving dish! Eat them all!
Originally featured in Treat Street