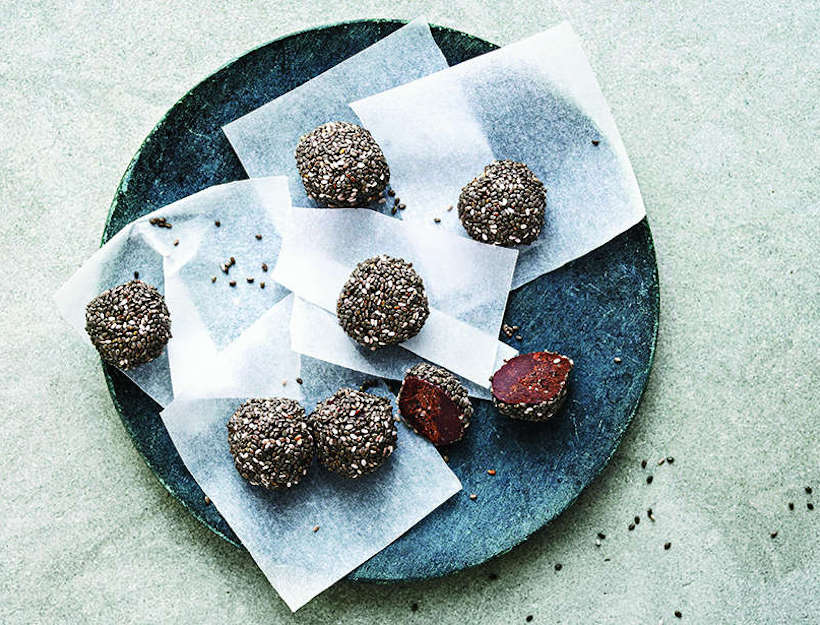 Chocolate Truffles
These little raw truffles are a revelation, and if you have a relatively stocked pantry, you probably already have all the ingredients. If you don't have stevia, add a little more date syrup or agave nectar, and if you don't have chia seeds, skip them or roll these babies in hemp seeds or shredded coconut instead.
1/2 cup raw cacao or unsweetened dutch-processed cocoa powder
2 tablespoons date syrup or agave nectar
2 tablespoons coconut oil, plus more as needed
2 pinches of maldon or other sea salt
1/2 teaspoon vanilla extract
6 drops of liquid stevia
6 tablespoons chia seeds
1. Combine the cacao, date syrup, coconut oil, salt, vanilla, and stevia in a medium bowl and use your hands to work it into a smooth mixture, adding a bit more coconut oil if needed.
2. Pour the chia seeds into a shallow dish. Form the cacao mixture into 16 balls and roll each one in the chia seeds. Chill in the fridge until ready to eat.
Originally featured in Two Simple Recipes Using Basic Pantry Essentials