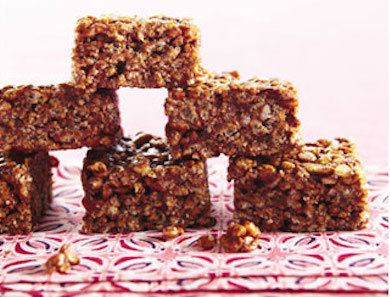 Chocolate Rice Crisp-Wee Treats
"I'm sure your kids have tried rice crispy treats, but have they ever had a chocolate rice crispy treat? Unlike the ones you would buy at the grocery made with lots of corn syrup, these get their sweet taste from brown rice syrup and some added nutrition from high-protein peanut and almond butters. Now, those treats that you may have avoided in the past may actually become something you'll be more than happy to give your little ones."
1. Coat an 8 x 8-inch baking dish with cooking spray.
2. In a large saucepan over low heat, whisk the brown rice syrup, peanut butter, almond butter, and cocoa
powder for about 2 minutes, until melted and starting to bubble.
3. Place the rice cereal in a large bowl, pour in the nut butter mixture, and stir with a spatula until completely
combined.
4. Pour the mixture into the pan and press down to flatten the top (I put my hand in a zip-top bag to keep it from
sticking).
5. Cool for 5 minutes, then cut into triangle shapes or squares or roll into balls, and serve.
From Weelicious, by Catherine McCord.
Originally featured in Sweet Treats for Kids