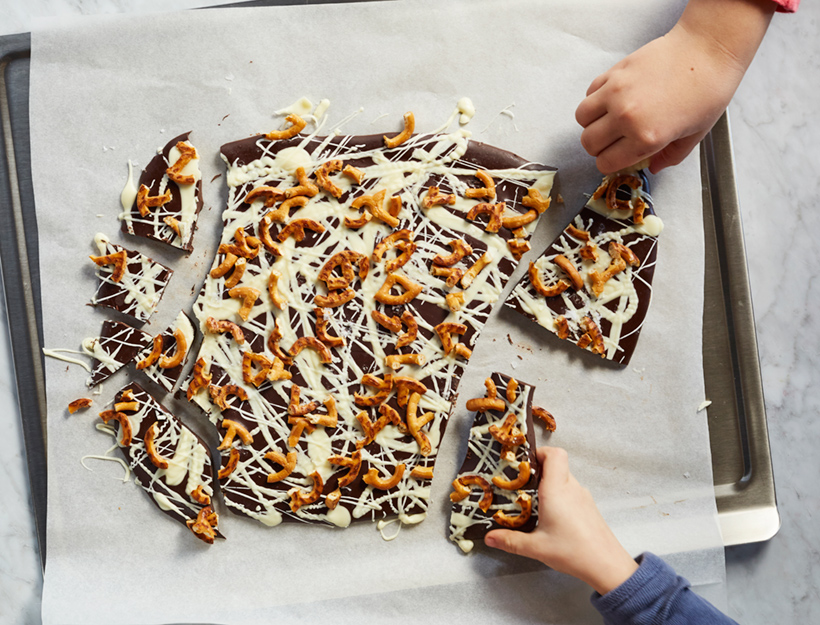 Chocolate bark is one of those things that looks fancy but is actually dead easy. Melt chocolate, pour it onto parchment paper, and top with whatever your heart desires. We kept it simple with pretzels, white chocolate, and sea salt, but the possibilities here are literally endless—put out a bunch of options and let your kids choose!
1. Make a double boiler by filling a saucepan halfway with water and placing a metal bowl on top (make sure that the bowl sits comfortably and doesn't touch the water in the pan). Place the semisweet chocolate in the bowl and melt over medium heat on the stove, stirring occasionally with a rubber spatula.
2. Remove the bowl from the saucepan and let the melted chocolate cool for a couple of minutes.
3. Once slightly cooled, pour the melted chocolate onto a parchment-lined baking sheet and use your spatula to spread it into an 8×11-inch rectangle (or thereabouts).
4. Clean out and dry the metal bowl, then melt the white chocolate in the double boiler.
5. Using a spoon or a spatula, drizzle the melted white chocolate over the semisweet chocolate (if it's too thick to drizzle, then dollop—it doesn't have to be perfect—you're cooking with kids, after all).
6. Top the bark with the pretzels, pressing the pieces in lightly with your hands. Sprinkle over a little sea salt, then let the bark rest at room temperature for 30 minutes.
7. Transfer to the fridge for 30 minutes to firm up then break into rough pieces to serve.
Originally featured in Edible Gifts You Can Make with Kids