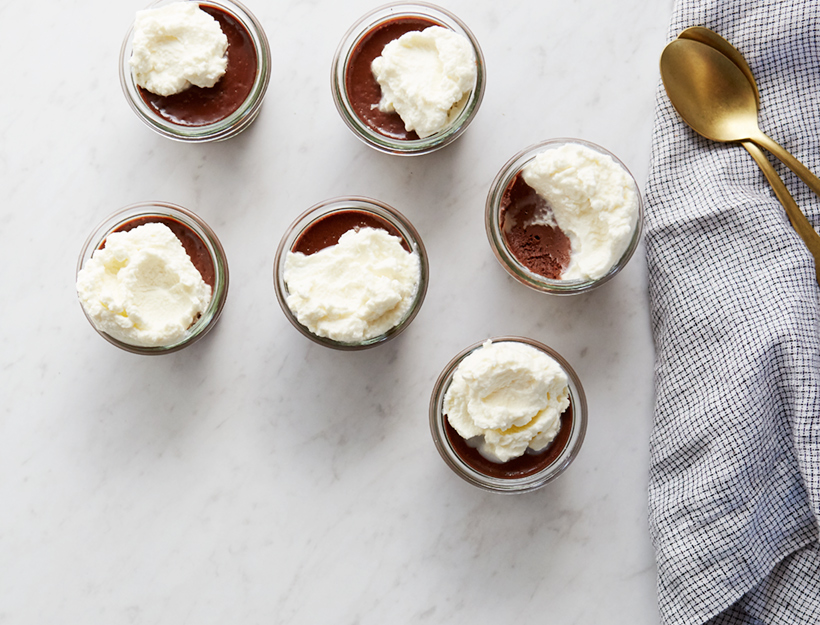 Chocolate Pots de Crème
"These incredibly rich pots de crème are so creamy and chocolatey; they also happen to be free of both dairy and refined sugar. You can make these with regular milk, almond, or soy milk, and I just love it with coconut—these flavors go so well together!"
1 egg
¼ cup maple syrup
1 ½ teaspoons instant espresso powder
1 ½ teaspoons organic vanilla extract
8 ounces unsweetened chocolate, chopped
1 cup canned coconut milk
1. Put all ingredients, except the coconut milk, in a Vitamix or powerful blender. Heat coconut milk in a small saucepan until very hot but not boiling.
2. With the blender running on low, slowly and carefully pour the hot coconut milk into the blender.
3. Blend until the chocolate is completely melted, and the mixture is smooth and thick.
4. Pour into serving cups and refrigerate until set, about 2 hours.
Originally featured in A Holiday Meal, Three Ways: Allergen-Free, Kid-Friendly, and Dinner for Two