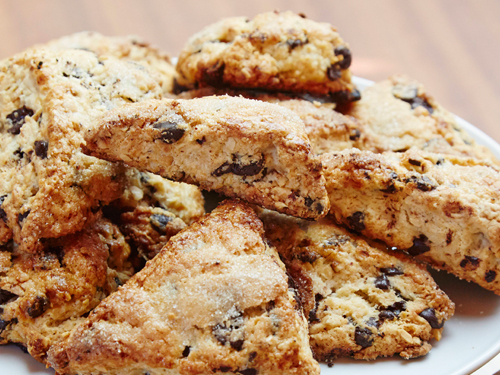 Chocolate Hazelnut Scones
Chef Zoe Nathan of Huckleberry in LA teaches us how to make the ultimate scone for goop Cookbook Club.
1¾ cups plus 2 tablespoons (40 grams) all-purpose flour
½ cup (50 grams) hazelnuts, toasted and ground
1 tablespoon plus 1½ teaspoons baking powder
5 tablespoons (40 grams) sugar, plus more for sprinkling
1 teaspoon kosher salt
1 cup plus 2 tablespoons (255 grams) cold unsalted butter, cut into ½-inch (12-millimeter) cubes
6 tablespoons (90 milliliters) cold buttermilk
1 teaspoon vanilla extract
1 cup (140 grams) chopped dark chocolate, 60 to 70% cacao
for the egg wash:
2 egg yolks
2 tablespoons heavy cream
pinch of kosher salt
1. In a very large bowl, combine the flour, hazelnuts, baking powder, sugar, and salt and toss well. Throw in the cold butter and work it with your fingertips until the pieces are pea- and lima-bean-size. Add the buttermilk, vanilla, and chocolate. Lightly toss to distribute.
2. Immediately dump everything onto a clean surface with more than enough space to work the dough. Using only the heel of your palm, quickly flatten out the dough. Gather the dough back together into a mound and repeat. Be sure to avoid overworking. You should still see some pea-size bits of butter running through it.
3. Form the scones by tightly packing the dough into an ice cream scoop and then transfer to an ungreased sheet pan. Freeze for at least 2 hours before baking, or up to 1 month, tightly wrapped.
4. Preheat your oven to 350°F/180°C.
5. To make the egg wash, combine the egg yolks, heavy cream, and salt and whisk until homogenous. Refrigerate until needed.
6. Remove the scones from the freezer. Space them with plenty of breathing room on 2 ungreased sheet pans, brush with the egg wash, and sprinkle liberally with sugar. Bake from frozen until cooked through, nicely browned, and easily lifted off the pan, about 30 minutes.
Originally featured in The goop Cookbook Club: Huckleberry