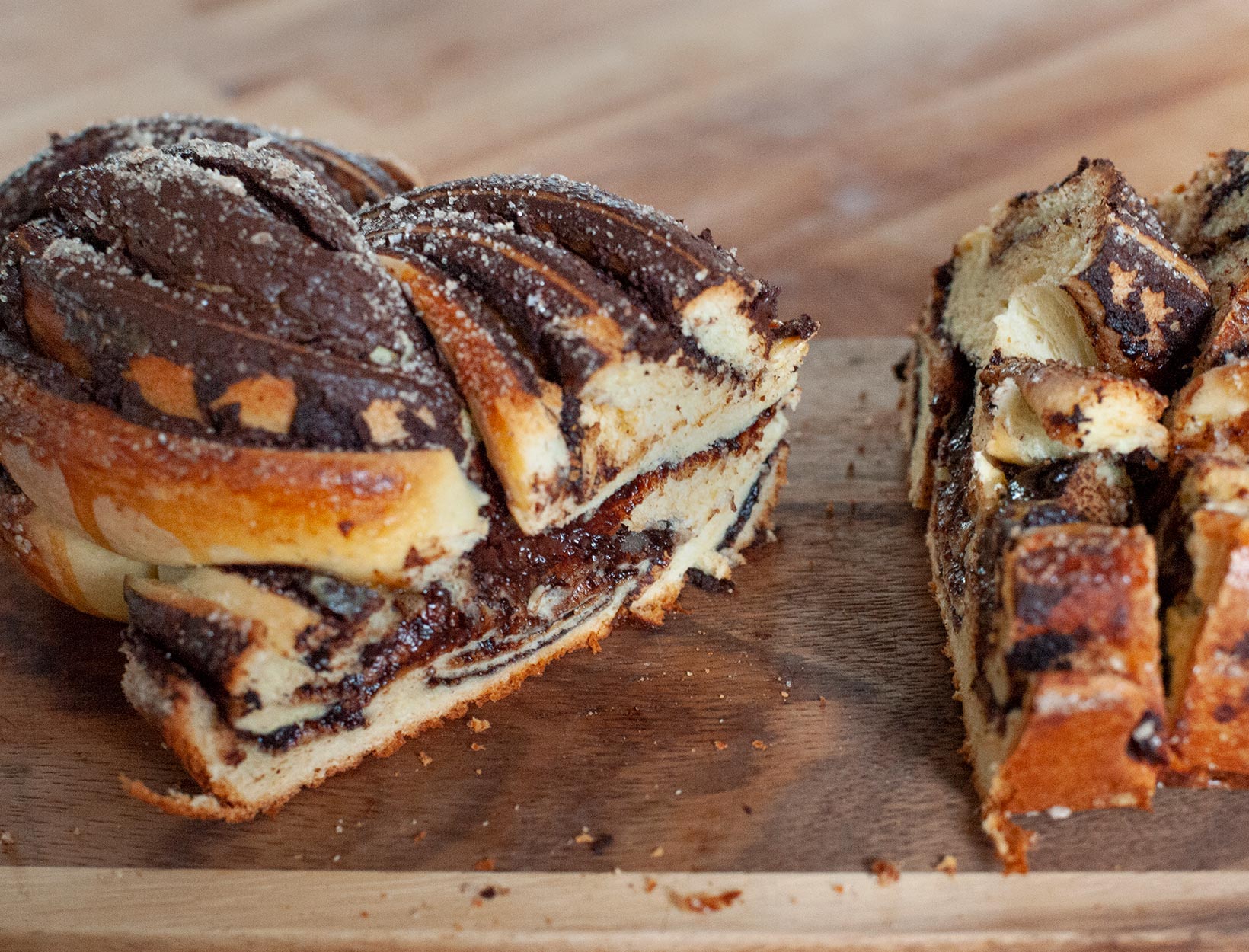 Chocolate Hazelnut Cardamom Babka
Babka may seem intimidating—sure, it takes a significant amount of time and planning, and the shaping takes a second to get—but you can totally pull it off. And it's so worth it: Fudgy dark chocolate and hazelnut spread folded throughout butter-tender yeasted dough is amazing. We skipped the traditional streusel topping and instead finished it with a crunchy salty-sweet spiced-sugar blend. If wrapped properly, it will stay moist for a few days, and if it's not, might we suggest babka French toast?
For the dough:
¼ cup sugar
6 ounces room-temperature milk
1 packet (2¼ teaspoons) instant yeast
4 egg yolks
2 eggs
6 tablespoons very soft butter, plus extra for greasing
the pan
¾ teaspoon ground cardamom
½ teaspoon vanilla extract
4 cups all-purpose flour, plus extra for flouring your
surface
1½ teaspoons kosher salt
neutral oil
12 ounces dark chocolate hazelnut spread
For the (optional) spiced sugar topping:
1 tablespoon sugar
¼ teaspoon ground cardamom
½ teaspoon flaky sea salt
1. Add the sugar, milk, yeast, egg yolks, and 1 whole egg, to a large mixing bowl and whisk to combine. Then add the softened butter and mix. It might not fully combine, but break it down as much as possible. Add the vanilla and cardamom.
2. Add the salt, then the flour in 4 phases, 1 cup at a time, gently working it into the wet ingredients with a wooden spoon. Add more flour only when the previous cup is nicely incorporated. After the last cup, the dough might have a little excess flour, and that's okay—just turn the dough and excess flour out onto a clean work surface and work the extra flour into the dough with about 5 minutes of gentle kneading.
3. When the dough is somewhat smooth and no longer tacky, it's ready to rise. Pour a little neutral oil into a clean bowl and place the dough in it. Turn the dough around so it's coated in oil all over. Cover with plastic wrap or bee's wax wrap and let rise until it's doubled in size, 2 to 2½ hours. (While the dough rises, it's a good opportunity to grease your loaf pans. It seems very far in advance, but once you start shaping, things will move quickly and you'll be glad to have it ready.)
4. Once the dough has risen, you're ready to roll, fill, and shape the babka. Turn the dough out onto a lightly floured surface. Divide the dough into 2 and cover 1 piece and set it aside while you work with the other.
5. Gently form the dough into a rectangle with your hands. Then use a rolling pin to roll it out into approximately 9×15-inch rectangle. This might take a few turns and rest periods as the dough tends to shrink back once stretched. Give it a couple tries to get as close as you can, but don't overwork the dough to get it perfect—it will be delicious even if the shape is a little wonky.
6. Use a butter knife or an offset spatula to evenly spread the chocolate hazelnut spread onto the dough. Leave a ¼-inch border on the horizontal edges, but spread to cover the vertical edges fully.
7. Now it's time to roll. Starting with the horizontal edge closest to you, lift the dough and begin to roll it toward the opposite side. Start small—you want as many rolls as possible. Gently push the dough roll until it meets the edge. Adjust the roll so that it's resting on the seam side. Let sit for a minute to help it seal.
8. To cut into a babka shape, use a bench scraper or sharp knife to cut down the length of the dough (this might get messy, but that's okay!). The turn both halves cut side up. Cross one side over the other creating an X. Then continue to twist or braid the dough on the top and bottom, pinching the ends together. Once the dough in braided, fold it in half—one end to the other—and give the two ends a final overlapping twist and pinch them together. Carefully transfer the dough from the counter to your loaf pan. (If this seems too complicated, you could also make buns: From step 7, cut into 8 rolls, place in a greased baking dish, and continue with the same baking directions. This is an especially good option if you have only 1 loaf pan.)
9. Once your dough is in the loaf pan, repeat the process with the remaining dough.
10. Cover the prepared babka with plastic wrap or a kitchen towel and let rise until they've doubled in size again, about 1½ hours.
11. Preheat the oven to 350°F. If using the spiced-sugar sprinkle, combine those ingredients in a small bowl, and prepare an egg wash with the remaining egg. Just before baking, lightly brush the dough with the egg wash and do a generous sprinkle of the spiced sugar over the top. Bake on the center rack for 30 to 35 minutes, rotating halfway through baking, until golden brown. Let cool for at least 15 minutes before eating.
Originally featured in Father's Day Recipes, Plus Food Gift Boxes and Subscriptions