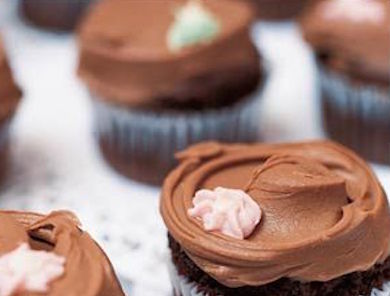 This recipe comes care of the genius Erin McKenna, and her genius bakery, Babycakes.
1. Preheat the oven to 325°F. Line one, standard 12-cup muffin tin with paper liners and set aside.
2. In a medium bowl, whisk together the flour, potato starch, cocoa powder, arrowroot, baking powder, baking soda, xanthan gum, and salt. Add the oil, agave nectar, applesauce, vanilla, and hot water directly to the dry ingredients. Stir until the batter is smooth.
3. Pour 1/3 cup of the batter into each prepared cup. This portion will almost fill the cup up entirely. Bake the cupcakes on the center rack for 22 minutes, rotating the tray 180 degrees after 15 minutes. The cupcakes will bounce back when pressed and a toothpick inserted in the center will come out clean. Remove from the oven.
4. Let the cupcakes stand for 20 minutes. Transfer them to a wire rack right side up and cool completely. Using a frosting knife, gently spread 1 tablespoon of Frosting over each cupcake. Place the cupcakes in an airtight container and store in the refrigerator for up to 3 days.
Originally featured in Babycakes