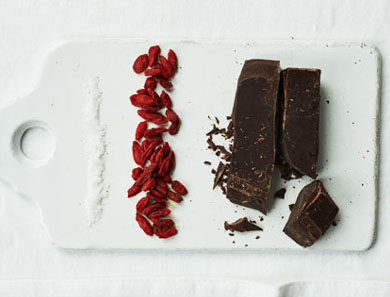 Chocolate-Covered Goji Berries
A great way to satiate the chocolate fix, goji berries add to dark chocolate's super food factor.
1. In a double boiler (meaning a pan filled about 1/3 of the way with water underneath the pan you will be using) melt the chocolate.
2. Once chocolate is melted, remove from heat and add goji berries and stir until berries are coated.
3. Remove berries from chocolate with a slotted spoon and lay on parchment paper. Sprinkle with sea salt to your liking.
Originally featured in Superfoods