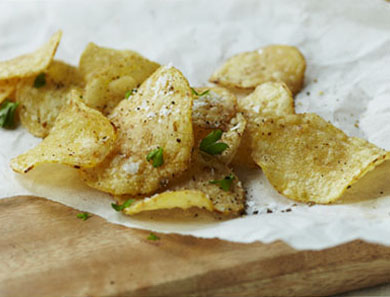 This recipe is great with sweet potatoes and beets as well.
1. Slice potatoes as thin as possible, about 1/8″ thick. It helps to use a mandolin if you have one. Let them soak in a bowl of warm water for about five minutes, drain and dry on towels, making sure all the water is removed.
2. Meanwhile, pour the oil about 3 inches deep into a large pot over high heat. Working in small batches, about a handful at a time, fry for about 3-4 minutes until they are golden brown. Transfer chips to a colander, using a slotted spoon and shake out the excess oil and sprinkling them with sea salt at the same time. Transfer to paper towels.
3. Season chips with freshly ground pepper, torn parsley and more sea salt as desired.
Originally featured in London Picnic