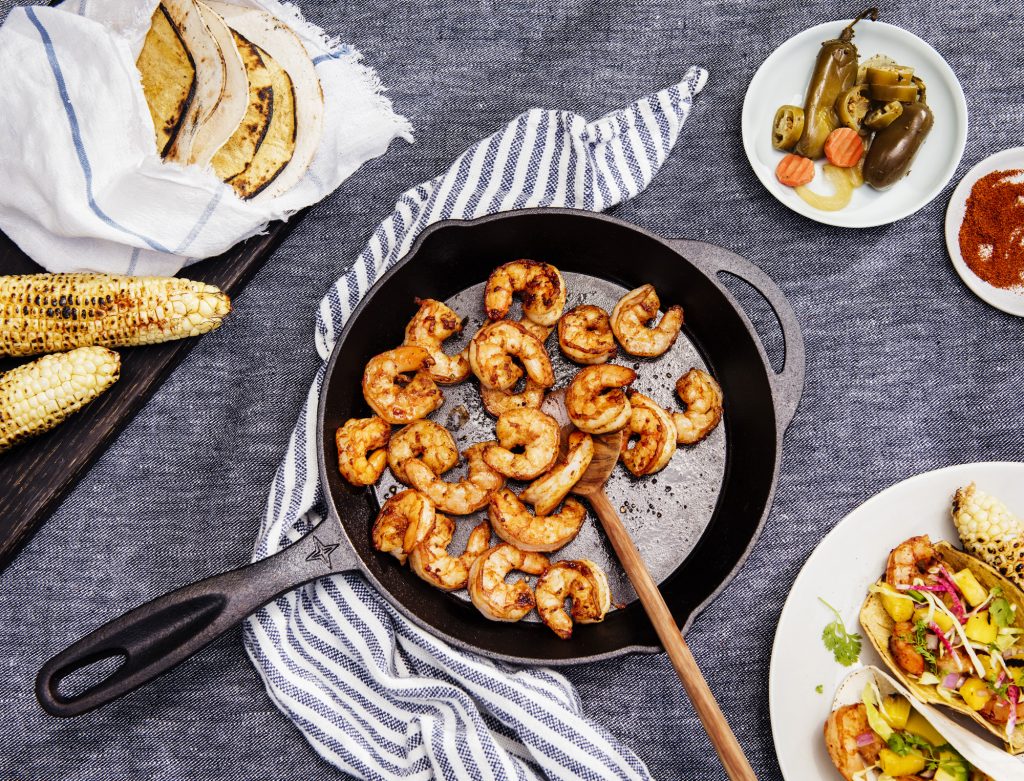 Chipotle Shrimp Tacos
All of us at goop are pretty taco-obsessed, and we loved this chipotle shrimp recipe. It's garlicky, savory, and smoky, with just the right amount of heat.
1 pound medium peeled and deveined wild shrimp, tails removed
¾ teaspoon sea salt, plus extra for sprinkling
½ teaspoon chipotle chili powder (or less to make it less spicy)
½ teaspoon garlic powder
½ teaspoon natural cane sugar, brown sugar, or maple sugar
¼ teaspoon paprika
¼ teaspoon ground cumin
¼ teaspoon chili powder
freshly ground black pepper to taste
1 tablespoon unrefined cold-pressed extra virgin olive oil
8 warm corn tortillas (or large lettuce leaves)
1. Rinse the shrimp and pat dry with paper towels. Set aside.
2. In a medium bowl, combine the spices, sugar, salt, and pepper. Add the shrimp and toss to coat.
3. In a large skillet, warm the olive oil over medium heat. Add the shrimp in one layer and cook until cooked through, about 5 to 8 minutes, turning halfway.
4. If the shrimp are very large, chop them into bite-size pieces before serving. Season with an extra pinch of salt and serve with tortillas and desired accompaniments.
Excerpted from Kitchen Matters: More than 100 Recipes and Tips to Transform the Way You Cook and Eat—Wholesome, Nourishing, Unforgettable by Pamela Salzman. Copyright © 2017. Available from Da Capo Lifelong Books, an imprint of Perseus Books, LLC, a subsidiary of Hachette Book Group, Inc.
Originally featured in Two Simple Recipes That Work for a Crowd