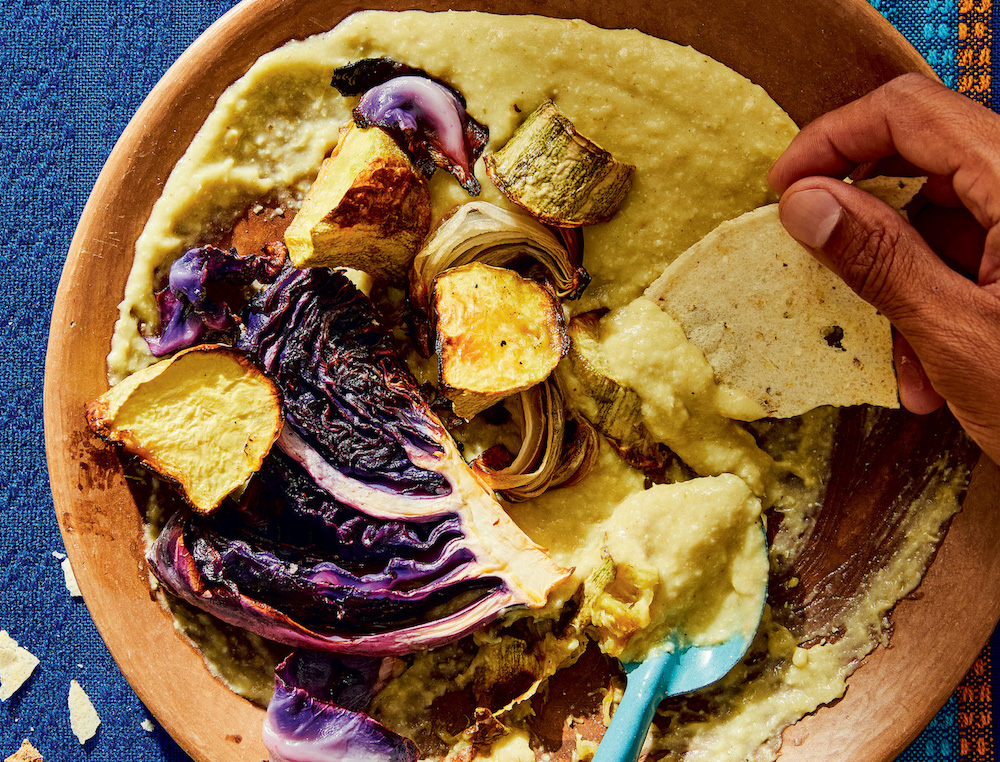 Chileatole Verde (Roasted Vegetables in a Rich Corn Broth Made from Fresh and Dried Corn and Green Chiles)
"Chileatole is a pre-Hispanic dish whose origin is a broth of chile thickened with nixtamalized corn (corn treated with sodium hydroxide also called lime to soften it so it can be ground into masa). Today, every region has its own style of chileatole—some are served as soups, some as beverages, some are sweet instead of savory, some are made with meat. My version is green from fresh green chiles and similar to one I had in Oaxaca that was served as a sauce over roasted vegetables. I use both fresh corn and instant masa to thicken and flavor the dish. To turn it into a soup, increase the amount of water and reserve half of the corn kernels to add to the blended soup at the end, then stir in the roasted vegetables before serving." —Martínez
1. Arrange a rack in the center of the oven and preheat to 450°F. Line a sheet pan with parchment paper.
2. On the prepared pan, toss the squash, cabbage, and onion with ¼ cup of the oil. Season generously with salt. Roast, tossing occasionally, until tender and
browned, for 40 to 50 minutes.
3. Meanwhile, in a large heavy pot over medium-high, heat the remaining
¼ cup oil. Add the chile poblano, chile jalapeño, tomatillo, scallions, garlic, and 1 tablespoon kosher salt (0.70 ounces/20 grams) and cook, stirring occasionally, until tender and just beginning to brown, for 5 to 6 minutes.
4. Add the corn and cook, stirring, until the corn is tender, for about 7 minutes. Add 6 cups water, the reserved cobs (there is a lot of flavor in the cobs), epazote, and hoja santa; bring to a boil. Reduce the heat to medium-low and simmer until the vegetables are tender and the flavors have come together, for about 30 minutes.
5. Remove the cobs (and compost them). Transfer the chile mixture to a blender and carefully blend until completely smooth. Return the blended mixture to the same pot and bring to a boil over medium-high heat. Whisk in the masa harina, whisking constantly until incorporated and no lumps remain. Cook, stirring occasionally, until thickened to the consistency of a cream gravy, for about 5 minutes. If the chileatole is too thick, whisk in more water, ¼ cup at a time until that consistency is achieved. Season with salt.
6. Divide the chileatole verde among bowls. Top with the roasted vegetables.

Reprinted with permission from Mi Cocina: Recipes and Rapture from My Kitchen in Mexico by Rick Martínez copyright © 2022. Photographs copyright © 2022 by Ren Fuller. Published by Clarkson Potter/Publishers, an imprint of Penguin Random House.