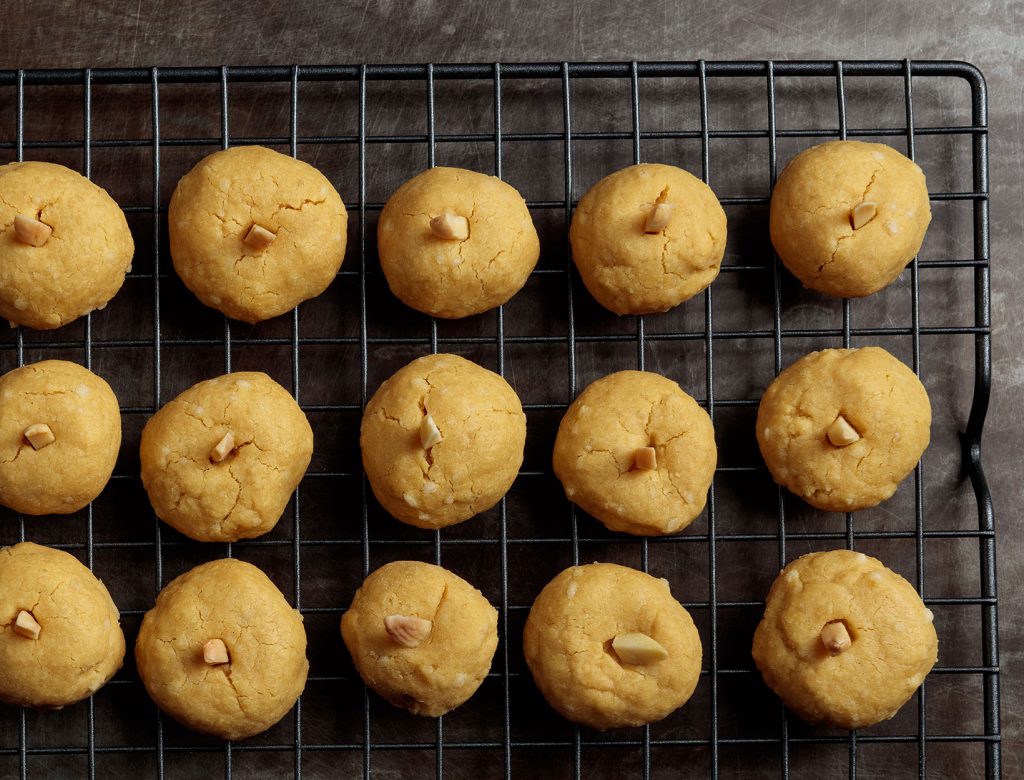 These cookies are simple and elegant. The nutty flavor of the chickpea flour alongside the almond and slightly sweet rose water is divine.
1. Mix the oil, confectioners sugar, and rose water using an electric hand or stand mixer for 3 minutes, until smooth and even.
2. Add the chickpea flour to the bowl and mix on low for 2 minutes, until the dough is smooth and not sticky.
3. If you're using a stand mixer, switch to the dough hook and mix for 10 more minutes on low (if you're working by hand, dust table with chickpea flour, then roll out and knead dough for 10 minutes).
4. This dough is very crumbly, but it will come together. Do not add more oil (it may be tempting, but don't).
5. Wrap the dough tightly in plastic wrap and let it rest for about 2 hours. (It does not need to be refrigerated.)
6. With a rolling pin, roll out the dough between 2 layers of plastic wrap to a thickness of about ¾ inch. Cut out shapes with a small cookie cutter.
7. Stick an almond sliver in the center of each piece to decorate.
8. Alternately, instead of rolling out the dough and using cookie cutters, you can scoop out small pieces by hand and form each into a ball in the palm of your hand.
9. Preheat oven to 300°F.
10. Line a sheet pan with parchment paper and the place cookies about 1 inch apart on the pan (this dough does not spread while baking).
11. On the center rack of your oven, bake the cookies for 15 to 20 minutes, until they have turned a very light golden brown.
12. Let cool to room temperature before removing from pan.
13. The cookies can be stored in an airtight container in the refrigerator for about 2 weeks.