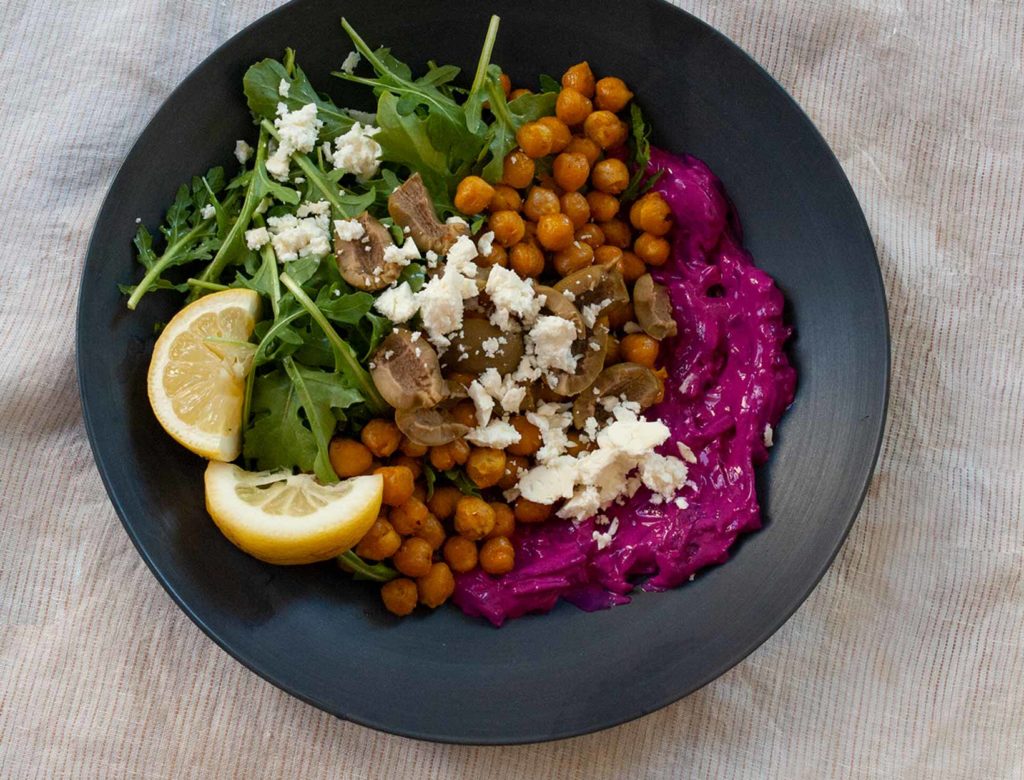 Spiced Chickpea Bowls with Pickled Beet Tzatziki
Pickled beets are incredibly flavorful—sweet, earthy, and tangy—but store-bought versions can get a little mushy. When they're finely chopped or grated, it's not an issue, so we took a cue from Hetty McKinnon and made a pickled beet version of her beet tzatziki. It would be a welcome condiment with almost any meal, and it's a nice cooling yet sweet counterpart to the savory spiced chickpeas, spicy arugula, rich egg, and briny feta and olives.
For the pickled beet tzatziki:
½ cup grated pickled beets
1 tablespoon pickled beet brine
1 tablespoon lemon juice
¾ cup plain Greek yogurt
1 clove garlic, grated
salt to taste
For the spiced chickpeas:
2 tablespoons olive oil
1 16-ounce can chickpeas, rinsed and drained
½ teaspoon salt
½ teaspoon garlic powder
¼ teaspoon cumin
¼ teaspoon turmeric
¼ teaspoon chili flakes
for the bowls:
1 cup arugula
¼ cup Castelvetrano olives, pits removed
¼ cup feta cheese
olive oil
lemon wedges
1. To make the pickled beet tzatziki, combine all the ingredients in a bowl. Set aside.
2. To make the spiced chickpeas, heat a nonstick pan over medium-high heat. Add the chickpeas and salt and cook for about 5 minutes, stirring occasionally. Once the chickpeas seem to have taken on a bit of color, add the spices. Stir occasionally so the spices don't burn. Cook for another 3 or so minutes, just so that the spices are fragrant and the chickpeas are warm and somewhat browned.
3. To assemble the bowls, add a base of arugula. Top with some chickpeas and a generous dollop of pickled beet tzatziki, then nestle the olives, feta, and eggs all around it. Drizzle with some olive oil and squeeze the lemon wedges over the top and serve.
Originally featured in 3 Inspired Pantry Dinners