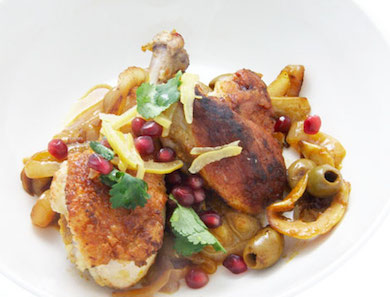 Chicken with Onions, Lemon & Saffron
This chicken dish is easy to make and has complex flavors. Finishing it with the preserved lemons and cilantro garnish is inspired.
1 whole chicken, cut into 12 pieces (leave skin on)
coarse salt
freshly ground black pepper
1/2 cup all-purpose flour seasoned with 1 tablespoon each salt and freshly ground black pepper
1/4 cup extra virgin olive oil
3 large Spanish onions, peeled and sliced 1/4″ thick
2 whole lemons, cut into paper thin slices
1 large fennel bulb, sliced 1/4″ thick
12 garlic cloves, peeled and left whole
1/2 cup green olives
1 teaspoon saffron threads
1 teaspoon hot pimentón (Spanish smoked paprika, available from www.tienda.com)
1 cinnamon stick
1 cup dry white wine (such as Albariño)
1 bunch cilantro, washed
1 whole preserved lemon, flesh removed and rind sliced into paper thin slices (available from www.kalustyans.com)
1/4 cup pomegranate pips
1. Preheat oven to 425°F.
2. Rub the chicken pieces with coarse salt, rinse and pat dry with paper towels.
3. Aggressively season chicken pieces with salt and freshly ground pepper all over and then dredge them in the seasoned flour.
4. Heat the oil in a large, wide, heavy pot over medium-high heat until nearly smoking.
5. Place half of the chicken pieces skin side down into the hot oil and cook for 8 to 10 minutes or until golden brown and crispy, swirling the oil and rendered fat around the pot every minute or two.
6. Turn the chicken and cook for 2 minutes on the second side and remove to a warm plate. Repeat with the remaining chicken pieces.
7. Add the onions, fresh lemon slices, fennel, garlic, olives, saffron, pimentón and cinnamon to the pot and cook until softened and golden, about 8 to 10 minutes.
8. Add the wine and bring to a boil.
9. Place chicken pieces and drippings from the plate into the onion bed, pushing them so that they're almost covered with the onion mixture, but with the skin still above the surface of the moist and delicious morass.
10. Place the whole pot, uncovered, into the oven and cook for 30 minutes.
11. Meanwhile tear the cilantro into 1″ pieces, toss with the preserved lemon slices and pomegranates and set on the table in a nice bowl.
12. Remove the chicken and serve immediately from the pot, pinching a bit of the cilantro salad over each portion.
Recipe courtesy of Mario Batali.
Originally featured in At Mario Batali's For Dinner