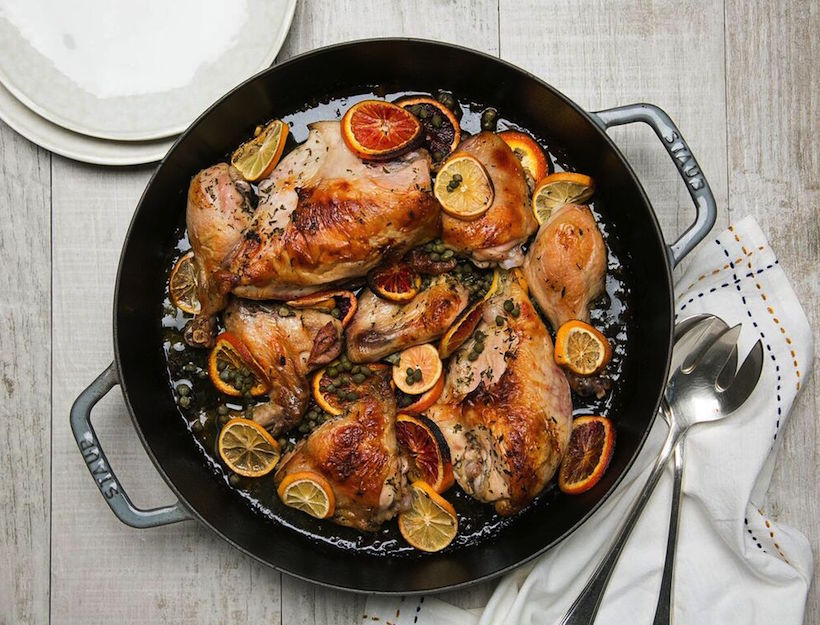 Chicken with Herbs, Citrus & Capers
This chicken is dead easy and the mix of herbs, acidity, and sweetness balance perfectly. Add some couscous and a green salad and you've got yourself a perfect weeknight or dinner party meal.
1 whole chicken (about 3 ½ pounds), cut into 8 pieces
1 fresh bay leaf, torn
1 teaspoon rosemary leaves, chopped
1 heaped tablespoon thyme leaves, chopped
juice of 2 lemons
3 tablespoons olive oil
1 teaspoon kosher salt
cracked black pepper
2 organic lemons, thinly-sliced
2 organic blood oranges, thinly-sliced
1/3 cup white wine or rose
2 tablespoons capers
1 teaspoon agave nectar, optional
1. Place chicken pieces in a large glass bowl or baking dish and toss with bay leaf, chopped rosemary, chopped thyme, lemon juice, olive oil, 1 teaspoon salt, and about ½ teaspoon of cracked black pepper. Cover and marinate the chicken at room temperature for 1 hour.
2. Meanwhile, preheat the oven to 400°F.
3. Arrange the chicken in a large dutch oven or baking dish (choose one that holds everything fairly snugly in a single layer so all of the liquid doesn't evaporate while it cooks), and pour over all of the marinade. Season each piece of chicken with a little more salt and pepper, then add the lemon and blood orange slices to the dish, tucking them in between and underneath the chicken. Add the wine to the dish and drizzle over a little more olive oil.
4. Place in the oven, uncovered, and cook for 1 hour 15 minutes, or until the skin and citrus are nicely browned and the chicken pieces are cooked through.
5. Remove the dish from the oven, and add capers and agave nectar (if desired), using a wooden spoon to mix in the capers and scrape up any lovely browned bits on the bottom of the pan.
Originally featured in Quick One-Pan Dinners