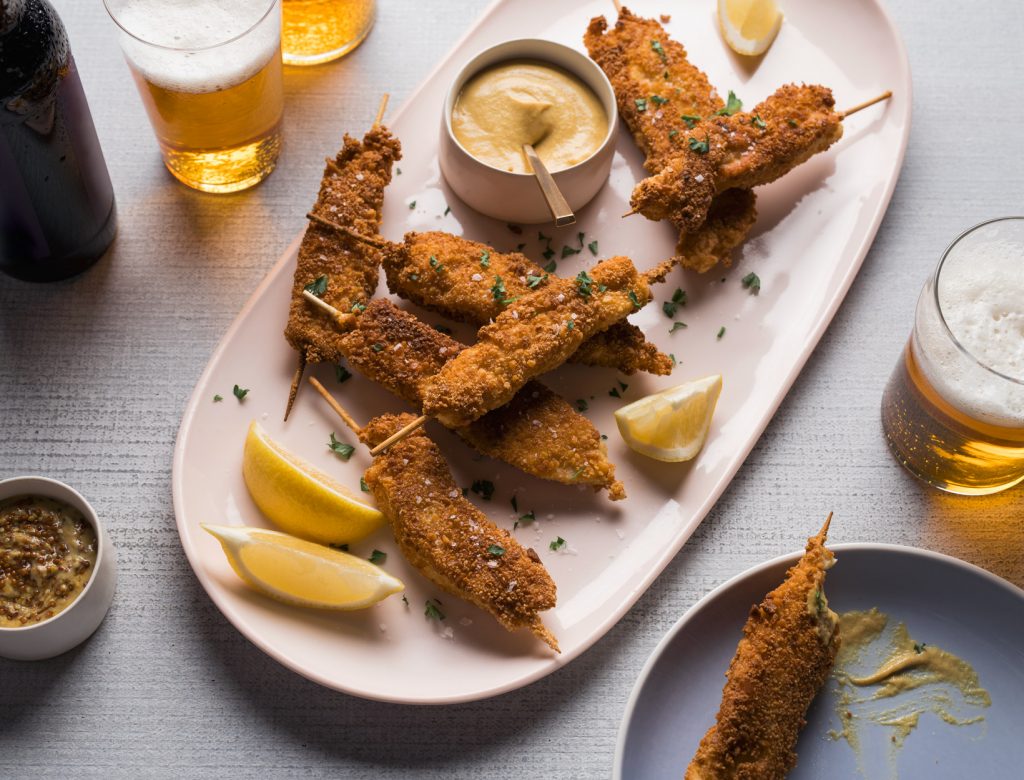 Chicken Schnitzel on a Stick
This fun, delicious party snack makes just about everyone happy. The tender meat is dredged in a mustard-beer bath before it's dipped in crispy gluten-free panko bread crumbs, fried until perfectly golden brown, and finished with a squeeze of fresh lemon and a sprinkle of salt. And of course, it pairs beautifully with beer.
4 boneless skinless chicken breasts
1 cup Cup4Cup flour
2 eggs, beaten
2 tablespoon Dijon mustard
1 tablespoon lager
2 cups gluten-free bread crumbs (We like Ian's Gluten Free Panko
Breadcrumbs)
¼ cup grape-seed oil
1 lemon, cut into wedges
1. Place the flour on a plate and the bread crumbs on a second plate. Beat the eggs, mustard, and beer together in bowl; transfer the mixture to a third, rimmed plate.
2. Pound the chicken breasts into ¼-inch-thick cutlets, then cut into 1-inch strips. Skewer each cutlet strip onto its own 6-inch wooden skewer.
3. One by one, dredge each skewer first in the flour, then in the egg mixture, and then in the bread crumbs.
4. Heat the grape-seed oil in a heavy-bottomed skillet over medium heat. Once the oil is hot, fry each strip until golden brown, about 2 to 3 minutes on each side.
5. Finish with a squeeze of lemon and salt.